Gerry Adams: Irish Unity referendum is going to happen
Reunification of Ireland is now a mainstream topic. A referendum on Irish Unity will happen.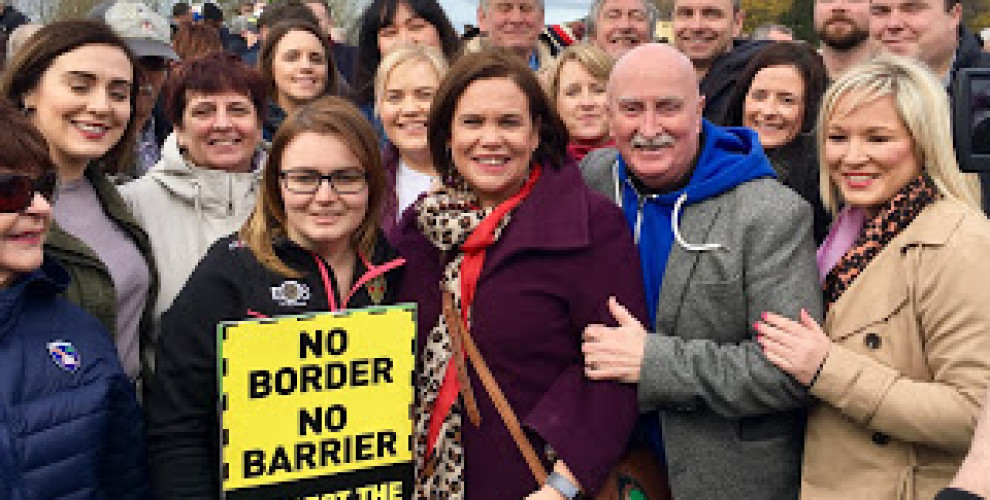 Last November, a few days after the Withdrawal Treaty was published, and on the eve of British Prime Minister Theresa May travelling to Brussels to sign it, Boris Johnson arrived in the North of Ireland. 
Former Sinn Fein president, Gerry Adams, remembered in his blog how Johnson "was in Belfast to address the DUP's annual party conference; the night after the British Chancellor Philip Hammond attended it. Johnson entered the Crowne Plaza amid great fanfare."
The visits, said Adams, "were a show of solidarity and plamas by English Tories to keep the DUP on board the partnership arrangements. There was a standing ovation and lots of photos of a beaming Boris hugging Arlene. Smiles all around." 
Last week it all came unstuck, wrote Adams, "Johnson and Mogg both u-turned, abandoned their friends in the DUP and walked through the lobby in Westminster in support of May's Withdrawal Treaty. Could Johnson's ambition to be the next leader of the Conservative Party have had anything to do with this volte-face?"
It is increasingly clear, added Adams, "with every day that passes, and with each report that is published, that Brexit – whether hard or soft - poses a huge threat to the two economies on this island.
Brexit threatens thousands of jobs, our farming and agri-food industry, the human and civil rights of citizens, and the Good Friday Agreement. In addition, the British government is using this crisis to undermine the rights of Irish citizens living in the North - enshrined in the Good Friday Agreement – by trying to force British citizenship on to us. This is unacceptable. There is a huge onus on the Irish government to stand up to British jingoism and Tory partisan policies. It must defend the rights and entitlements of all citizens living in the North that are a fundamental part of the architecture of the Good Friday Agreement."
At the weekend thousands turned out at a series of events along the border, organised by the Border Communities Against Brexit. "They were good natured protests. - said Adams - But there is a clear determination on the part of the border communities not to see the clock turned back to the days of border checkpoints and disruption of community and family life.
There is now hardly a day passes without the issue of a referendum on Irish Unity and of a United Ireland being part of the discourse around Brexit. Former President Mary McAleese made a thoughtful speech last week on this and related issues. Reunification is now a mainstream topic. A referendum on Irish Unity will happen."