Germany finances Erdogan's war - NOT WITH US!
A war that Germany tolerates and finances? Not with us - we won't become accomplices in war and fascism," say internationalist, anti-fascist groups on the meeting of defense ministers from Germany and Turkey in Berlin.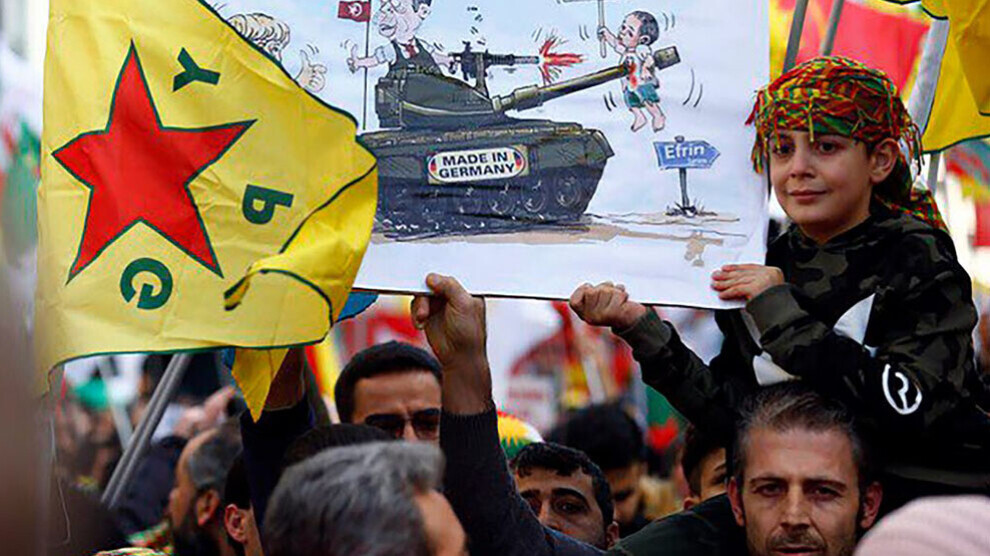 Turkish Defense Minister Hulusi Akar will come to Berlin on Tuesday for a working meeting with German Defense Minister Annegret Kramp-Karrenbauer (CDU). The background is Germany's mediation efforts in the gas dispute between Greece and Turkey in the eastern Mediterranean, say reports, according to which the German defense minister had already held talks with her Cypriot and Greek colleagues last week.
However, the fact that Hulusi Akar only wants to talk to Kramp-Karrenbauer about the gas dispute with Greece just two weeks after his return from Southern Kurdistan (Northern Iraq) does not seem very credible. Especially in view of Erdogan's threats to start another invasion against northeastern Syria, but also in Southern Kurdistan. Akar had traveled first to Baghdad and then to Hewlêr (Erbil) early last week. The main topic of the talks was "joint action in the fight against terror" – referring to the Kurdistan Workers' Party (PKK) and the self-governing structures in the Yazidi settlement Shengal (Sinjar).
Internationalist and anti-fascist groups in Germany are calling for action against the meeting of the two war ministers in Berlin. Their statement includes the following:
"The Turkish government proudly announced the plan that both Derik and Shengal will be attacked and annexed. The war of occupation in Rojava continues - every day women are abducted, enslaved and murdered in Afrin. Also the wounds of the invasion in Serekaniye are not yet healed and already the Turkish state plans the next attack against the population in North East Syria and South Kurdistan.
On Tuesday February 2, 2021, the Turkish Defense Minister Hulusi Akar comes to meet with his colleague Annegret Kramp Karrenbauer (German Defense Minister CDU). If in these times representatives of an obviously fascist state are invited to Germany to discuss the continuation of the war in the Middle East, then they should know that we will not accept this. Solidarity means resistance!
As antifascist and internationalist forces it is in our hands not only to stand up for the fighting people in Rojava and Shengal, we also have to fight the complicity of the German federal government in war and fascism! As anti-fascist people we have a responsibility, and we have to live up to it! We do not support or tolerate wars against civil populations and self-determination anywhere in this world and everyone should know this, starting with the CDU and AKP.
Therefore we call all internationalist and anti-fascist forces to become active together. Let's set a strong sign nationwide, let's start no matter where we are - let's bring our anger to the streets or make it visible in the digital world. Pay attention to infection control and to your fellow human beings. We look forward to a diverse, creative and visible protest against fascism and the feminicidal and genocidal policies of the states.
On Tuesday, February 2, let's unite our anger against this federal government and its German-Turkish "friendship" which enables deadly wars, cruel displacements and jihadist occupations.
A war that Germany tolerates and finances? Not with us - we won't become accomplices in war and fascism!
Watch out for announcements about the rally and movements of fascists in Berlin.
United against fascism, imperialism and patriarchy - stand up for international solidarity!
Berlin Migrant Strikers
Feministische Initiative Neuruppin
Gemeinsam Kämpfen Berlin
Internationalistische Jugendkommune Sara Dorşîn
Internationalistisches Zentrum Dresden
Rise Up 4 Rojava Koordination Deutschland
Solidarische Jugendbewegung
Women Defend Rojava Komitee Berlin
Women Defend Rojava Komitee Dresden
Women Defend Rojava Komitee Tübingen
Women Defend Rojava Koordination Deutschland
Widerstandskomitee Berlin
Young Struggle Berlin"