Freedom for Öcalan Vigil in Strasbourg enters week 455
The Freedom for Öcalan Vigil in Strasbourg has entered its 455th week. Kurdish activists from Rennes have taken over the vigil this week.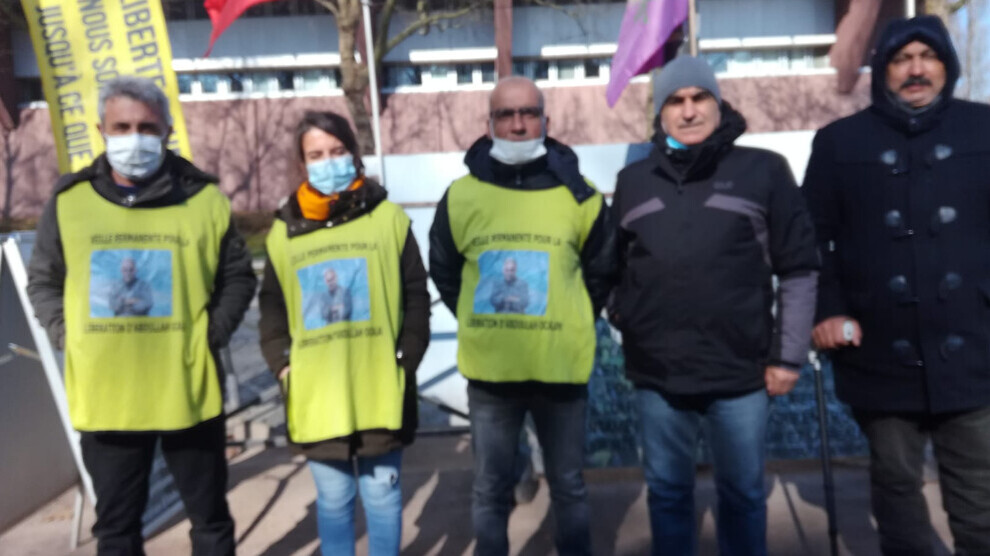 The Freedom for Öcalan Vigil was taken over by a group of Kurdish activists from Rennes this week, the 455th.
The group consists of Eylem Balta, Behçet Binici ve Şeyhmus Binici and took over the Vigil from a group from Drancy.
Speaking on behalf of the group Eylem Balta said that the "isolation imposed on Kurdish People's Leader Abdullah Öcalan has become a method of war for the AKP - MHP fascism."
Saying that "isolation is applied to the Kurdish people in the person of Leader Apo", Eylem Balta underlined that it is carried out in parallel with the war imposed on the Kurdish people, assimilation and the occupation of Kurdistan.
Saying that "Leader Apo is not only in isolation in this sense, it is the Kurdish people and the peoples of the Middle East," Balta added: "The key to the solution of the Kurdish problem is Imrali, so breaking the isolation on our Leader will result in the Kurdish people gaining their freedom."
Balta said: "The ideology put forward by Leader Apo is a solution against capitalism that destroys social life, labor, ecology and women's rights."
Eylem Balta saluted "International Working Women's Day and all women struggling in the mountains, prisons and cities in the 455th week of the Freedom Vigil."
The Freedom for Öcalan Vigil which was launched on 25 June 2012 demanding the end of the isolation imposed upon Kurdish people's leader Abdullah Öcalan, continues with determination. The action, which is carried out in front of the buildings of the Council of Europe and the Committee for the Prevention of Torture (CPT) in Strasbourg, continues every week with groups of Kurds and their friends living in the diaspora.