Demo against the isolation of Öcalan in Paris
Demonstrations in solidarity with hunger strike actions against the isolation of Öcalan continue across Europe.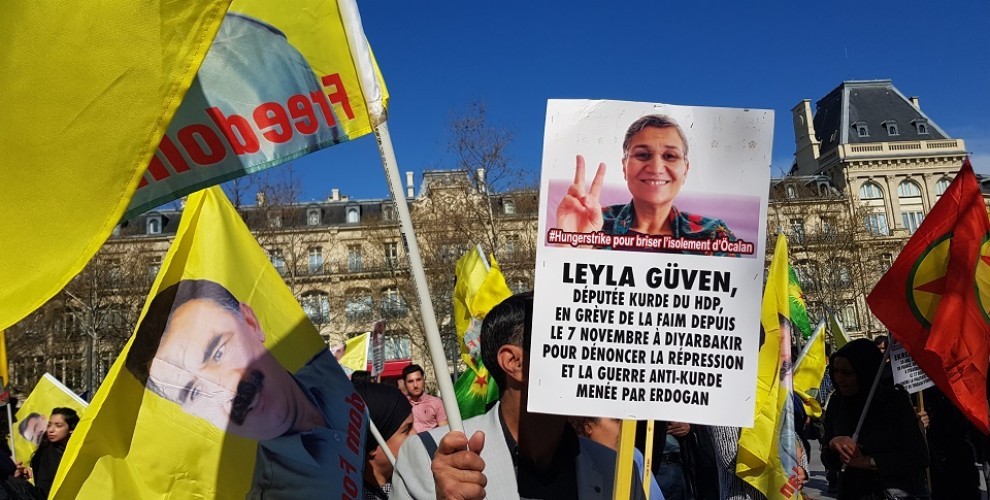 As the Kurdish hunger strike resistance against the isolation of Kurdish People's Leader Abdullah Öcalan continues with great resolve, so do solidarity demonstrations all around the world.
The hunger strike protest was first started by DTK Co-chair and HDP MP Leyla Güven who announced starting an indefinite hunger strike on November 7, 2018, during a hearing she attended while she was held in Amed prison. She was released from prison on January 25th, on the 79th day of her fast which she continues at her home in Amed (Diyarbakır) since.
Meanwhile, many people participate in the mass protest. In the prisons in Turkey alone, there are 7,000 PKK and PAJK political prisoners who, like Leyla Güven, are demanding conditions for Öcalan, in which he can freely live and work as the chairman of a legitimate movement, in order to find a solution to the Kurdish question.
The Democratic Kurdish Council of France (CDK-F) and Kurdish Women's Movement in France (TJK-F) promoted a demonstration at the Republique Square in Paris this afternoon to call attention to the hunger strikes.
Demonstrators unfurled banners that read "Freedom for Öcalan" and "We are all Leyla" as they chanted slogans commending the Strasbourg resistance which is participated by 14 Kurdish activists who are on their day 104 of indefinite hunger strike.
Berivan Fırat spoke on behalf of the Kurdish Women's Movement in France and called on the French government and concerned authorities to break their silence on hunger strikes.
Murat Ceylan who spoke on behalf of the European Kurdish Democratic Society Congress, said the following;
"The hunger strike resistance initiated by Leyla Güven has spread all around world and brought the isolation imposed on our Leader by the fascist Turkish state to the agenda of the entire world. This wave of resistance turned into Serhildan (uprising) in Newroz areas. On March 31, we will expel all trustees from all of Kurdistan and make the fascist government go down."
The demonstration continued with spreading information on the aggravated isolation of Öcalan and hunger strikes, and ended with a call for strong participation in the 5-day sit-in to be held in front of the Council of Europe in Strasbourg on April 1st.