Death toll in Elazığ earthquake rises to 22
According to the latest information 22 people died and 1,103 people were injured in the earthquake in the province of Elazığ on Friday evening. Rescue operations are continuing.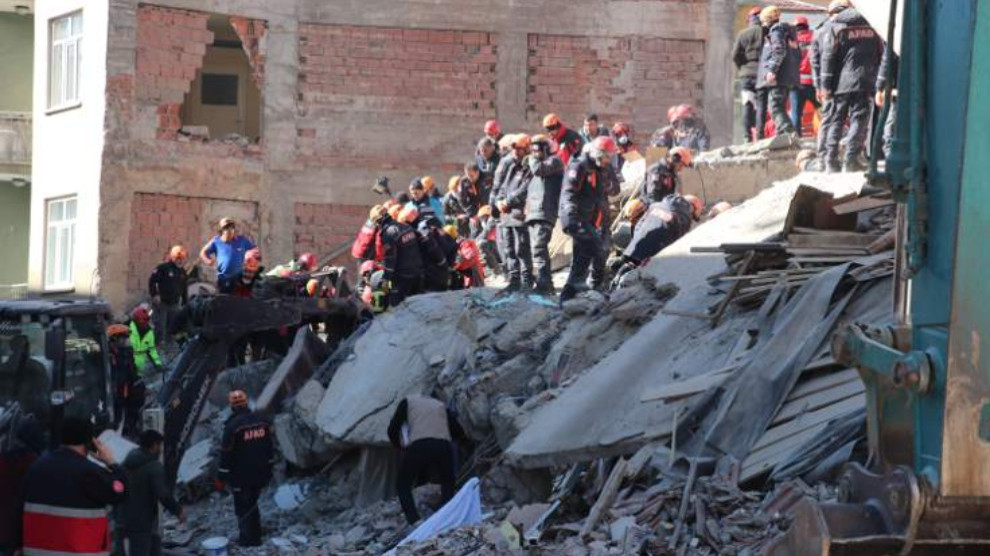 After yesterday's earthquake in Elazığ, the rescue work continues. The epicentre of the 6.8 magnitude quake at 20.55 local time was in Sivrice district. A four-storey building collapsed in the Gezin neighborhood of the Maden district, five people were buried under the debris.
During the rescue operation that started at night, one woman was recovered dead and another injured.
A dead child was found in the morning hours at the scene. The injured parents could be rescued first, the mother, who was six months pregnant, succumbed to her injuries in hospital.
Aftershocks continue
The earth in Elazığ continues to tremble. Since yesterday there have been 13 more smaller earthquakes with epicentre in Sivrice, altogether almost 300 aftershocks have been registered. Every tremor causes people in the region to panic again.
Damage to the city wall of Amed
The historical city wall in Amed (Diyarbakir) was also damaged by the earthquake. In two places the wall was partially destroyed and the area was sealed off.
Forty people recovered alive
According to the latest information from the Disaster and Emergency Authority (AFAD), four people have died in Elazığ 18 and in Malatya while 1,103 people were injured. In the centre of the Elazığ province, rescue work is continuing on three collapsed buildings. According to AFAD, 40 people were rescued alive.