Arms factory supplying Turkey occupied in Naples
Naples activists occupied military factory supplying helicopters to Turkey.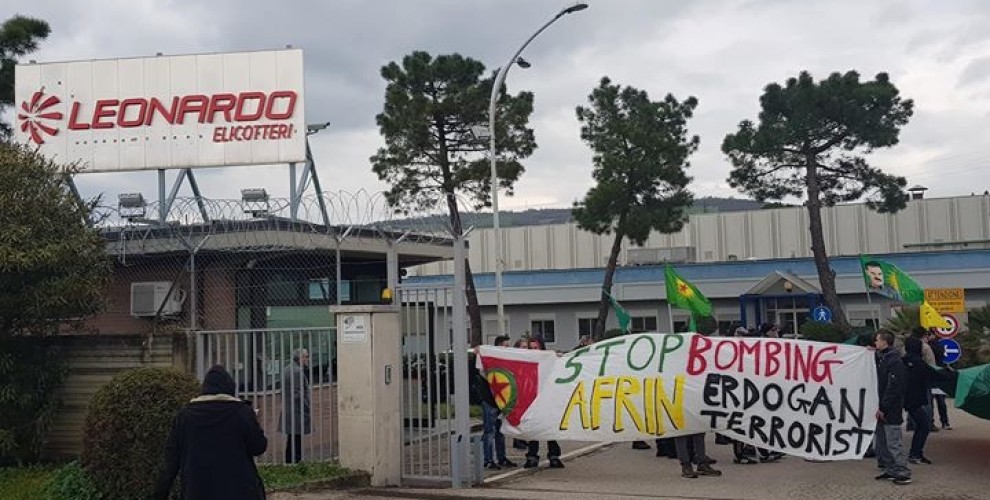 Activists in Benevento from the Campania network of solidarity with Kurdistan bypassed the gates and broke into Agusta-Westland, a company of the Leonardo-Finmeccanica sector that produces military helicopters for the Turkish army.
The action of protest and occupation lasted for several hours despite the tensions with the police who arrived immediately after the activists entered the factory gates.
The action was organised to denounce the shame and illegitimacy of a company whose majority shareholder is the Italian government. A factory which supplies the Turkish army that since 20 January is attacking Afrin in alliance with jihadists Daesh members. Turkish bombing has already killed hundreds of innocent civilians and Kurdish militias, YPJ and YPG, men and women, civilians who have taken up arms to defend their people, families and cities.
Thousands of civilians have already been forcibly displaced from Afrin, denounced the activists, remembering that Article 11 of the Italian Constitution saying: "Italy repudiates war…" This article, said activists "is now reduced to rubbish by a government and a dictator like Erdogan who is committing crimes against the humanity with the complicity and silence of the international community".
A parade was organised by activists inside the factory: leaflets, photos of the massacres and banners against the bombing and invasion of Afrin were delivered and displayed.
While in Germany at least the public debate on the Leopard tanks supplied to Turkey has been ignited, underlined activists, the Kurdistan populations continue to be attacked by the Mangusta helicopters built by Agusta-Leonardo-Finmeccanica in total institutional silence in Italy:
The initiative is one of many organised for the World Action Day for Afrin convened for Saturday, March 24 and asks for the end of support for Erdogan, the end of military occupation, freedom and self-determination for Afrin and Syria.