Arbitrary ban of Assyrian national flag in Dusseldorf
At a rally in Dusseldorf for the freedom of Kurdish leader Abdullah Öcalan, the police banned the display of the Assyrian national flag.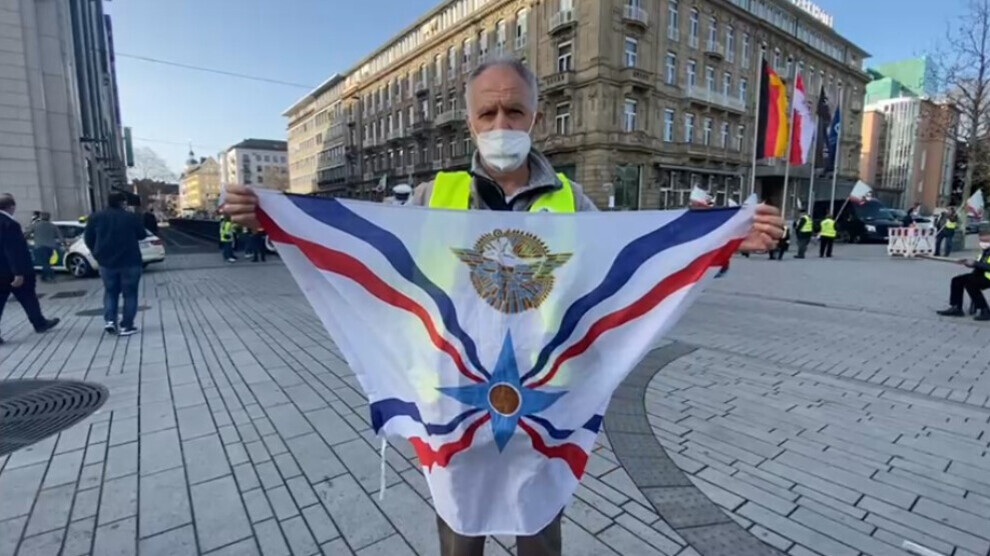 Although the Assyrian flag is not on the German Interior Ministry's list of banned symbols, police in Dusseldorf have arbitrarily banned Assyrians from displaying their national flag at a rally against the isolation of Abdullah Öcalan.
On the third day of the permanent rally in Dusseldorf, which has been going on since Monday, Assyrian activist Sabri Barsilibo wanted to take part in the action with the Assyrian national flag. However, this was forbidden to him and his flag was confiscated. Barsilibo is now being investigated for "carrying a forbidden symbol".
"Kurds and Assyrians share the same fate"
Barsilibo told ANF that the Kurdish fate resembled the Assyrian one. He said he attended the rally for the freedom of Abdullah Öcalan despite the repression. The member of the Congress of Peoples and Worldviews of Mesopotamia said that "a common struggle" was necessary for Öcalan's freedom.
"Systematic practice of the German police"
The Assyrian flag has become the symbol of Assyrians in their homeland as well as in the diaspora for over 50 years. The four-part flag with a blue star and four red-white-blue lines bears the symbol of the pre-Christian God Ashur in the upper quarter.
Representatives of Assyrian organizations strongly condemned the actions of the police, saying; "This action of the police is literally scandalous. The banning of a national flag is a novelty in Germany. Moreover, the flag of none of our organizations is officially banned. However, the German police stated that they had already banned the flag before. That is true, they wanted to prevent the display of the flag and the symbols of the Suryoya people again and again. We won many lawsuits, but they still insist on this attitude."
Part of the isolationist policy toward Kurdish freedom movement
The context of the demonstration certainly plays a role here. It is to be feared that the police thus want to prevent Assyrian activists from participating in actions of the Kurdish freedom movement, and that the repression is part of the isolationist efforts of German authorities.