Activists at Geneva vigil demand freedom for Öcalan
Activists holding a vigil in front of the UN headquarters in Geneva since 2021 condemned reiterated their demand for freedom for Kurdish people's leader Abdullah Öcalan.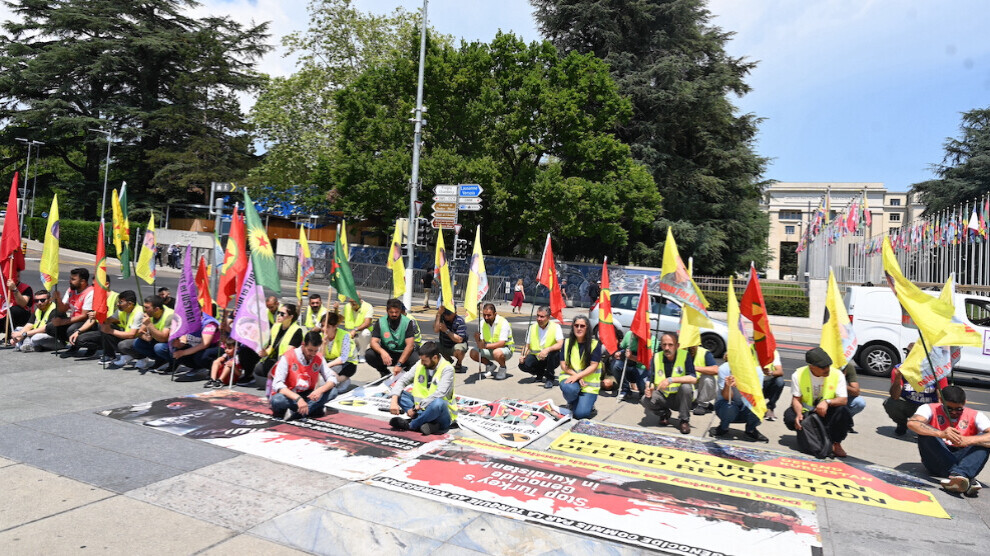 A vigil by the Democratic Kurdish Community in Switzerland has been taking place in front of the UN headquarters in Geneva since 25 January 2021. Every Wednesday, activists stage a protest in front of the United Nations building to demand the release of Kurdish people's leader Abdullah Öcalan. The action is carried out as part of the 'Dem dema azadiye' [Time for Freedom] campaign and directed against the isolation of the Kurdish leader on the Turkish prison island of Imrali, the Turkish occupation attacks on Kurdistan, the massacres committed in Kurdish territories and the silence of the UN.
Today's vigil began with a minute of silence paying tribute to the martyrs of the Kurdistan Freedom Struggle in the person of commander Faisal Abu Layla, who lost his life in the fight against ISIS during the operation to liberate Manbij in June, 2016.

During the course of the sit-in action in Nations Square, books written by Öcalan, such as 'Women's Revolution', 'War and Peace', 'Democratic Confederalism' and 'Democratic Nation' were distributed to passersby.
In today's press statement, Mehmet Latif Çelebi, co-chair of the Geneva Democratic Kurdish Community Center (CDK), denounced the absolute isolation that Öcalan has been subjected to for nearly 30 months, demanding: "Abdullah Öcalan should be free."
Çelebi emphasized that the vigil held in front of the Council of Europe in Strasbourg since 2012 and the sit-in protest in front of the UN since 2021 have a single demand: ensuring the freedom of Abdullah Öcalan.
Çelebi stated, "The demands of a people who have received no news from their leader for over 27 months can not be ignored. Institutions such as the UN, the Council of Europe, human rights organizations and the CPT, which neglect the demands of Kurdish people, must fulfil their responsibilities. Until we receive news from our leader and his freedom is ensured, the Kurdish people will continue to remind these institutions of their responsibilities and will continue their actions."