11 HDP deputies and over 80 mayors still behind bars
After the arrest of one and release of three of HDP deputies, there are currently two co-chairs and nine HDP deputies in jail. In addition, more than 80 Kurdish mayors are still in prison.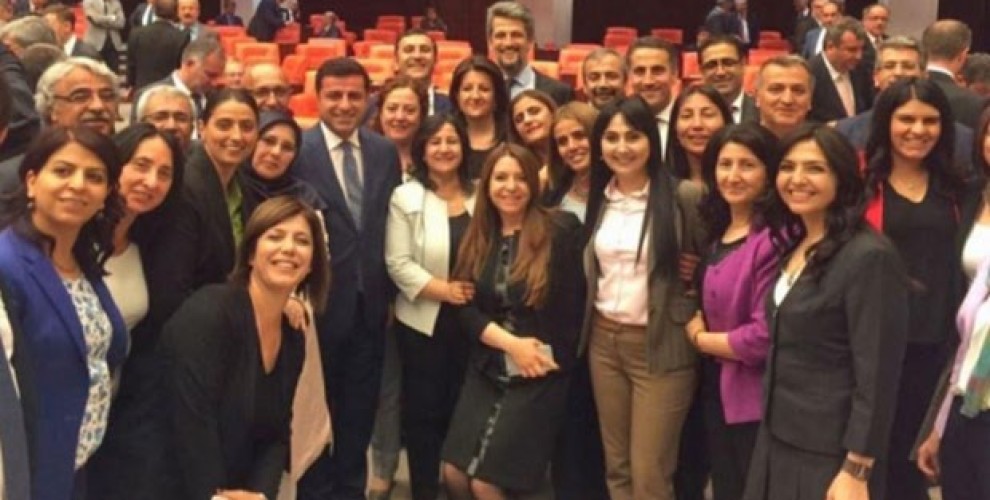 Peoples' Democratic Party (HDP) Deputy Co-chair Responsible for Foreign Affairs, Hişyar Özsoy released a statement regarding the recent situation with regard to the jailed HDP and DBP (Democratic Regions' Party) politicians in Turkish prisons.
The statement remarked that pressures on the democratic opposition in general, and on the HDP in particular, have not ceased after the referendum on 16 April in Turkey. Two days after the referendum, on 18 April 2017, the countrywide state of emergency rule was extended for another three months for a third time. The next day, on 19 April 2017, Burcu Celik, HDP deputy for Muş, was arrested with the charges of "inciting people to hatred and enmity" and "making terrorist propaganda" due to a speech she had delivered in 2015. She is currently kept in Sincan Prison in Ankara under conditions of solitary confinement.
Two days later, on 21 April 2017, six Kurdish politicians, including co-chair of DBP, co-mayors and deputies, stood trial. While HDP deputies Meral Danış Beştaş (Deputy for Adana) and Nursel Aydoğan (Deputy for Diyarbakir) were released by the court pending trial, on the same day separate courts ordered the continuation of pre-trial detention for Sebahat Tuncel (Co-chair of DBP), Gültan Kışanak (Co-mayor of Diyarbakir), Gülser Yıldırım (HDP Deputy for Mardin), and Ferhat Encü (HDP Deputy for Şırnak). Tuncel and Kısanak's hearings will continue to be held in Malatya, Yıldırım's in Mardin, and Encü's in Şırnak.
Aydoğan had been arrested on 4 November 2016 with charges of "making terrorist propaganda" and "inciting people to hatred and enmity." These accusations were based on her political activities, such as giving speeches or attending public and political events. Aydoğan was released with the condition of judicial control. However, her parliamentary seat is at stake now because of a 4 years, 8 months and 7 days sentence given by Diyarbakır 2nd Assize Court. The appeals court in Gaziantep approved the conviction, and the prosecutor's office in Diyarbakır has sent the formal letter to the Ministry of Justice, demanding the revocation of Aydoğan's parliamentary seat. Similar to the procedure used for the revocation of the parliamentary seat of HDP co-chair Figen Yüksekdağ, Aydoğan will lose her seat at the parliament when the court order is read out at the plenary.
Meral Danış Beştaş, imprisoned between 31 January and 21 April 2017, was released with the conditions of a travel restriction and judicial control. After Aydoğan and Danış Beştaş's release, prosecutors objected to the decision. While the court has denied the objection to Danış Beştaş's release, the objection to Aydoğan's release has not been finalized yet.
In addition to Aydoğan and Beştaş, Nihat Akdoğan, HDP deputy for Hakkari who was in prison since 7 November 2016, was released from prison on 26 April 2017. His multiple cases are pending. But the prosecutor objected to the decision of the court with the demand of a new arrest order. The court has not made a decision yet.
On 25 April 2017, Feleknas Uca, current HDP Deputy for Diyarbakır and former member of European Parliament for ten years, was detained while leaving her house in Diyarbakır. She was released after her testimony at the office of the Prosecutor.
After the arrest of one and release of three of HDP deputies, there are currently two co-chairs and nine HDP deputies in jail. In addition, more than 80 Kurdish mayors are still in prison. HDP co-chairs, deputies, and co-mayors are prosecuted because of their speeches and political activities. The appeals HDP made to the Constitutional Court in November 2016 for the release of HDP co-chairs and deputies have not been reviewed yet. And neither the European Court of Human Rights has started reviewing HDP's applications regarding both the lifting of legislative immunities of its deputies and their arrest.
The HDP deputies under ongoing arrest are; Co-chairs Selahattin Demirtaş and Figen Yüksekdağ, Spokesperson Ayhan Bilgen, Group Deputy Chair İdris Baluken, Hakkari MPs Abdullah Zeydan and Selma Irmak, Mardin MP Gülser Yıldırım, Diyarbakır MP Çağlar Demirel, Siirt MP Besime Konca, Şırnak MP Ferhat Encü and Muş MP Burcu Çelik.