Yazidi Youth Union and Yazidi Young Women's Union to launch actions to support guerrillas
The Yazidi Youth Union and the Yazidi Young Women's Union will launch a series of actions of solidarity and support with the guerrilla resistance against the Turkish state's invasion attacks.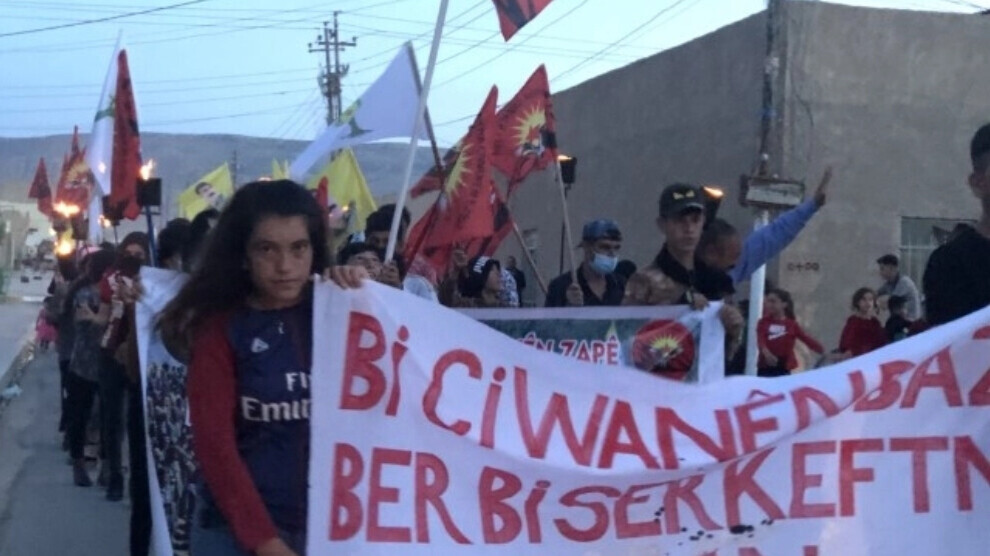 A joint statement was made by the Yazidi Youth Union and the Yazidi Young Women's Union.
The statement said: "On 17 April, the Turkish state launched a new invasion attack against the lands of South Kurdistan with the help of the KDP. There is a great war in Medya Defense Areas and a great resistance in Zap and Avaşin. The invading Turkish state is attacking the guerrillas with its tanks, artillery and banned chemical weapons to destroy the Kurds. The guerrillas are displaying a selfless resistance against these barbaric attacks."
Pointing out that the Turkish state is trying to expand its borders with occupations before the end of the Lausanne Treaty in 2023, both youth movements said: "The fascist Turkish state wants to destroy our resisting people by destroying the guerrillas. The enemy is aware that the guerrillas and the people cannot be separated from each other. For this reason, together with the attacks against the guerrillas, the KDP, the Turkish state and the Kazimi government simultaneously attacked Shengal. This shows that the purpose of all the attacks is the same and that they aim to eliminate our people."
The statement continued: "The Yazidi youth and the Yazidi people put up a strong resistance against the attacks and the 9 October agreement. Our stance against the danger of the 9 October agreement is clear and we are determined to protect our lands against the enemy. Komalên Ciwan called for resistance against treason and occupation with the slogan 'Fight for freedom against betrayal and occupation'. As the Yazidi Youth Union and the Yazidi Young Women's Union, we see our responsibility in this call and start various actions."
The statement ended with the following final remarks: "In this direction, we will organize comprehensive youth meetings in Shengal villages. At the same time, we will organize events to greet the guerrillas' resistance and revive the spirit of 1 June, and turn all areas into areas of resistance. Led by Shengal youth and women, we will organize a march with the slogan 'Join the freedom fight against occupation and betrayal'. On this basis, we call on all Shengal youth, young women and all our people to join our actions. May 1 June be the day of victory and freedom for all our resisting peoples."