Women urge the KDP to stop hostility to the Kurdistan freedom movement
Members of Kongreya Star staged a march at Semelka border crossing between Rojava and Bashur (West and South Kurdistan) in protest at the KDP's betrayal against the Kurdish people.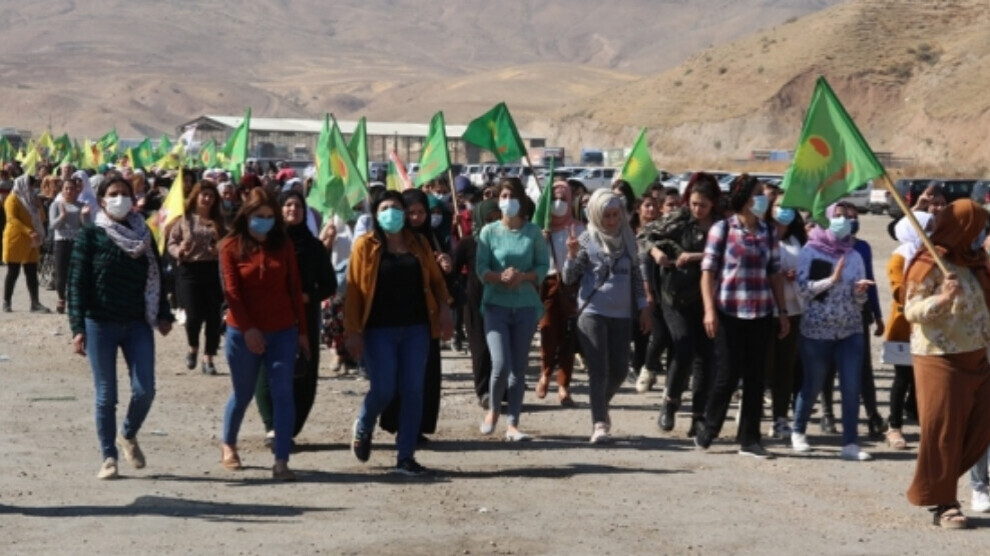 On the border between Rojava and Bashur Kurdistan, families of those martyred in the Kurdish liberation struggle protest against the collaboration of the KDP with the Turkish state.
Relatives of martyrs protest against South Kurdistan's ruling party KDP at the Sêmalka border crossing in Rojava. The protest was organised by the Council of Martyrs' Families from the Cizire region. The People's Defense Forces (HPG) announced last week that five guerrilla fighters had been killed in a KDP ambush in the region of Xelifan. While another HPG member is presumed to be wounded, only HPG guerrilla Haki Zîlan survived the attack. Of the six fighters whose death in the KDP ambush has been announced, two were from Dêrik and Tirbespî in northern Syria.
The protest action of the martyrs' families at Sêmalka border crossing continues on its sixth day.
Hundreds of people marched to the border crossing today in protest at the KDP's betrayal, including members of the women's umbrella organization in North-East Syria, Kongreya Star, and members of the economy committees from the cities and towns in the Cizire Region.
Condemning the KDP's betrayal, women called for the handover of the bodies of the guerrillas who fell in the KDP ambush in Xelifan.
Speaking during today's protest, Rojava Kongreya Star Spokeswoman Remziye Mihemed highlighted the historic resistance of the guerrilla forces. She noted that the guerrillas were the children of Kurdistan people and their aim was to preserve the honor of their people.
Remziye Mihemed stated that the action would continue until the bodies of the fallen guerrillas are returned and called on the KDP to stop hostility to the Kurdistan Freedom Movement.
Mihemed also called for inreased struggle against the enemy.