Women from Şırnak: "Hands off our land"
Women in the town of Balveren responded to the destruction of nature and the burning of forests by saying, "Once again, they try to remove us from our land, but we will not give up; they should get their hands off our land."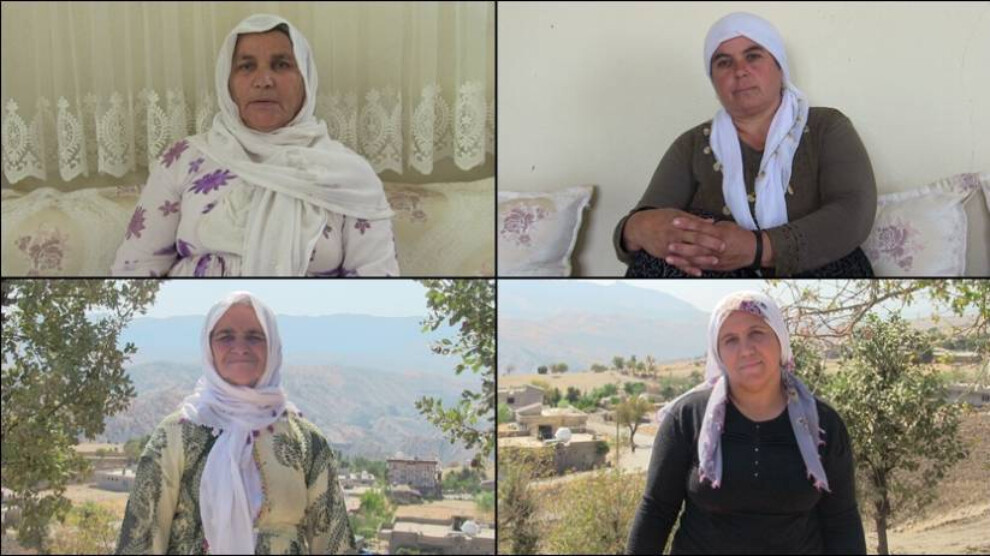 With the arrival of the summer season, thousands of hectares of forest are burned in Dersim, Lice, Bingöl, Bitlis, Hakkari, and Şırnak under the guise of military operations, while so-called village guards play a role in the daily cutting down of tons of trees. Hundreds of trees were cut down, and much vegetation was reduced to ash in the Cudi, Gabar, and Besta regions, which were among the worst affected by the fire. It is unknown where the trees that were cut under the authority of the military in the name of "security" in Şırnak and its districts, one of the regions where special war strategies are most intense, were taken.
In response to the destruction of nature caused by forest fires and tree cutting, women in the Balveren town of Şırnak who spoke to JinNews stated unequivocally that they will not give up their lands.
'They should take their hands off our nature'
Taybet Sidar (47), a local resident, remarked that the region's forested areas are purposefully destroyed: "They are burning our forests, cutting down our trees, and erecting power plants to ruin Kurdistan's ecology. In this way, they intend to burn our homeland and territories and force us to flee. For years, they have been imposing these oppressions in our lands. They're punishing us. However, no power will be able to compel us to leave here; we will never leave our territories."
Sidar stated that they are frequently confronted with bans, adding, "They want to render our lives unbearable. They don't want us to be able to organize our own lives here. The government wishes to make us their slaves. For years, this land has been subjected to special war policies. What harm do our forests cause to them? They are pressuring us to forget our territories, cultures, and languages.  We are not interested in residing in those cities. We want to live in peace and security in our own territories, in the land of our predecessors."
'This land is our will, let's defend it'
Sidar emphasized her anger at forest fires and tree chopping, saying, "They want to take down our forests and send us to Turkey's metropolises. It is a place of brave and valiant warriors. Each of our boys and daughters died so that these regions could be free. These mountains are like gold, a part of heaven on earth. When one looks at the magnificence of Mount Cudi, one gains strength and courage. All of these places are parts of our history. We must not accept this robbery and massacre. These are our lands; let's defend them."
'They won't let us go and put it out'
Sabiha Özek (57), one of the residents of the town, emphasized the importance of forests for life. Özek said, "They looted the entire forest. We are unable to graze our cattle. A tree is worth the services of dozens of doctors. Because trees and forests are critical to human health. We want to go to the forest, but they won't let us, saying that it is not permitted. We'd like to pick our fruits, but they won't let us. They burned all of them, let alone let us take care of them.
We make a living by picking fruit. The army sets fire to our forests on purpose. When a forest fire breaks out in the west, it is quickly extinguished. However, here they do not allow anyone to go and put out the fire."
'This looting must stop'
Stating that their lands are their reasons to live, Saristan Özek (38) said: "The state oppresses us on all sides. It destroys our forests and damages our trees. Every day, our homes are raided, and our children are arrested. We make a living from these trees. When will this brutality finally end? We will not, under any circumstances, abandon our language, our cause, or our culture. There is no such pressure or cruelty anywhere else on the planet. Trees, like people, have souls too. The government must put a stop to this looting."
'We will not leave our land'
Meryem Sidar (70), remembering the deadly raids on the villages in the 1990s, emphasized that what is occurring now is similar to what happened back then. She said, "Guards and soldiers tortured us throughout the 1980s and 1990s. For three days, I was tortured. They intended to torment us and transport us to Turkish metropolises. With the same agenda, they now want to burn our forests, take down our trees, destroy our livelihoods, and transfer us to cities. We want a peaceful life now. They must understand that we will never abandon this place."