Thousands attend funeral of YBŞ commander Seîd Hesen, and YBŞ fighter Îsa Xwedêda in Shengal
Many thousands of people attended the funeral of YBŞ commander Seîd Hesen, and YBŞ fighter Îsa Xwedêda who fell as martyrs following a Turkish air strike against Shengal.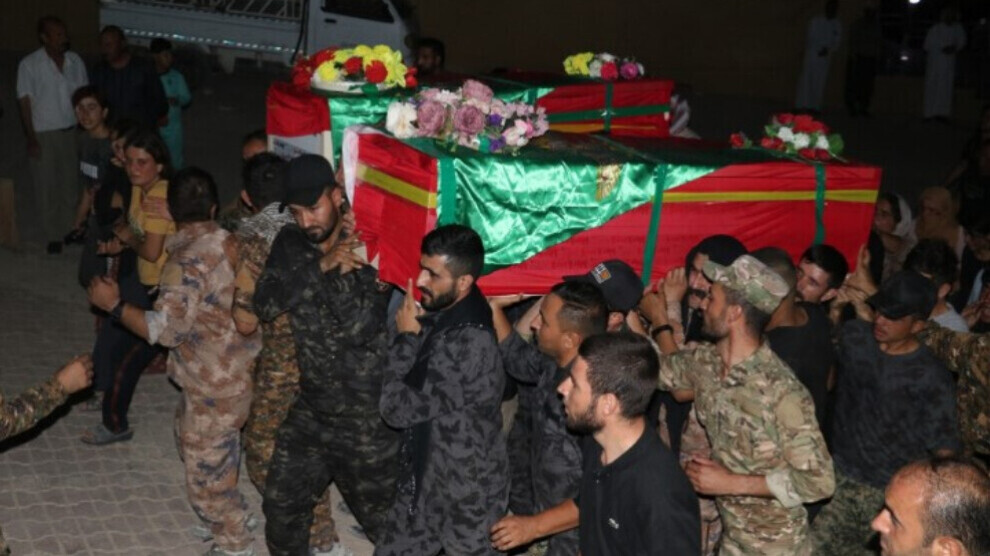 The funeral of the commander of the Shengals Resistance Units (YBŞ), Seîd Hesen, and the YBŞ fighter Îsa Xwedêda turned into a protest against the Turkish aggression of the South Kurdish self-governing region of Sengal.
Shortly before the visit of Iraqi Prime Minister al-Kadhimi, the Turkish Air Force killed the YBŞ commander and his companion in an air strike in the middle of the busy city center of Shengal (Sinjar). In addition to the two dead, three civilians were injured in the attack.
After the autopsy, the bodies of the two dead were escorted by a convoy of thousands of people and hundreds of vehicles to the Şehîd Dilgeş and Şehîd Berxwedan Fallen Cemetery on Mount Shengal. The coffins were carried under the slogan "The fallen are immortal". A military ceremony was held in the cemetery, attended by thousands of people.
Viyan Hebabî gave a speech on behalf of the Shengal Women's Unit Command (YJŞ). She said: "We bid farewell to two fallen men who gave their lives on the path of Angel Taus (a central figure in the Yazidi religion). Heval Seîd was loved by the Yazidi people. He fought day and night against the 73rd massacre (ISIS genocide) and for the unity of the Yazidi population. From the first day of the massacre until today he has been resisting. We have no expectations of the Iraqi government. If Iraq were really a state, the fascist Turkish invading state would not have been able to cross its borders and attack our people."
Ibrahim Heso spoke on behalf of the Shengal Self-Government. He said: "Just as their ancestors resisted earlier, Şehîd Seîd and the Şehîd Îsa resisted today. Our two friends heroically defended our Yazidi people."