Shengal Yazidis to support the PADE candidate in Iraqi elections
Shengal residents stated that they support the Yazidi Freedom and Democracy Party (PADE) in Iraqi parliamentary elections to be held on October 10.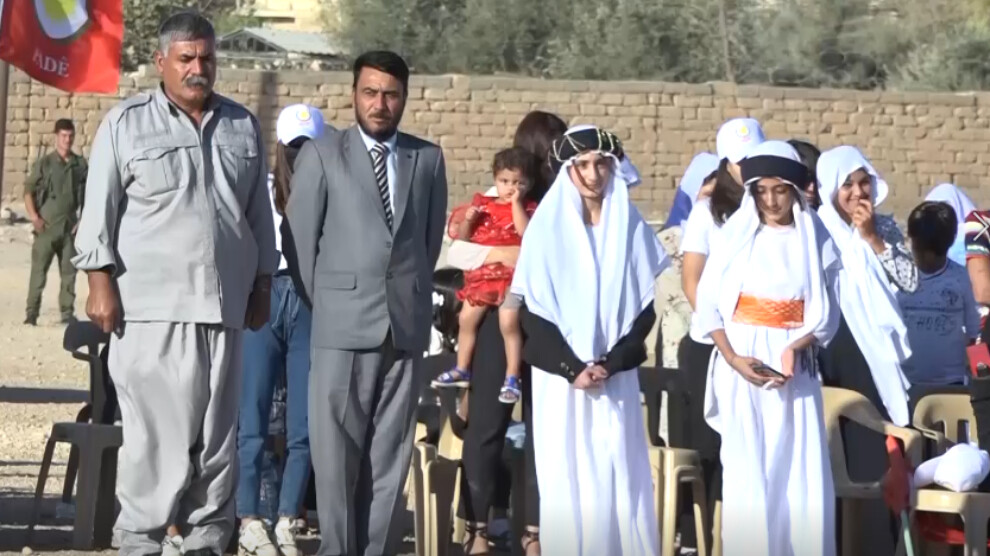 Iraqi parliamentary elections will be held on October 10. The Yazidi Freedom and Democracy Party (PADE) is preparing for the elections with its candidate Şex Semir. Shengal residents, who attended an event in the Sinuni district to express support for the party, stated that they will support PADE and send their candidate into the Iraqi Parliament.
Iliyas Xwededa, a member of the Shengal Autonomous Administration, stated that PADE stands for the Yazidi community who have been through bitter experiences, including deaths and massacres.
'Success of PADE candidate will be an assurance'
Speaking to ANHA, Iliyas Xwededa recalled the Yazidis' painful experiences in Shengal and Iraq in 2014 and before, adding, "To avoid a repetition of the same scenario, we should guarantee the success of our candidate to represent us in the parliament, to convey our voices to the government and the public, and to serve us and attain our rights."
Xwededa said they believe that Şêx Semîr Derwîş will serve the Yazidi community, recalling that the Yazidis could not obtain any right in previous elections in Iraq.
'Our votes will determine our future'
Iliyas continued, "No matter which candidate wins, he should pay attention to changing conditions of the Yazidis in Iraq and make an endeavour to attain the rights of the Yazidi community on all platforms. They should avoid working only for themselves or their own political party. Vote for the person who promises Yazidis a good future. Our votes will determine our future."
'Shengal remained defenseless due to lack of official representation'
A teenager named Delal Ezidi addressed the young people and asked them to vote for whoever promises a better future for the youth in Iraq. Delal remarked that Şex Semir's program supports the youth and underlies social development.
Recalling the ISIS onslaught in 2014, Delal Ezidi said, "The Iraqi and KDP forces left Shengal defenceless. All this happened since there was nobody to represent Yazidis on official platforms."
'A candidate to represent the Yazidis in Parliament'
Umer Qaso from the Kohbil village of Shengal said the Yazidis are completely aware that they should elect a candidate to represent them in the Iraqi parliament. "With this awareness, we stand with Şex Semir, candidate of the Yazidi Freedom and Democracy Party. We trust that this political party was established to serve the Yazidi community."