Seven guerrillas fought to the death in Mamreşo
ANF footage shows the siege of Mamreşo. There, guerrilla fighters resisted the Turkish army and refused to surrender. They fell as a result of Turkish use of chemical weapons.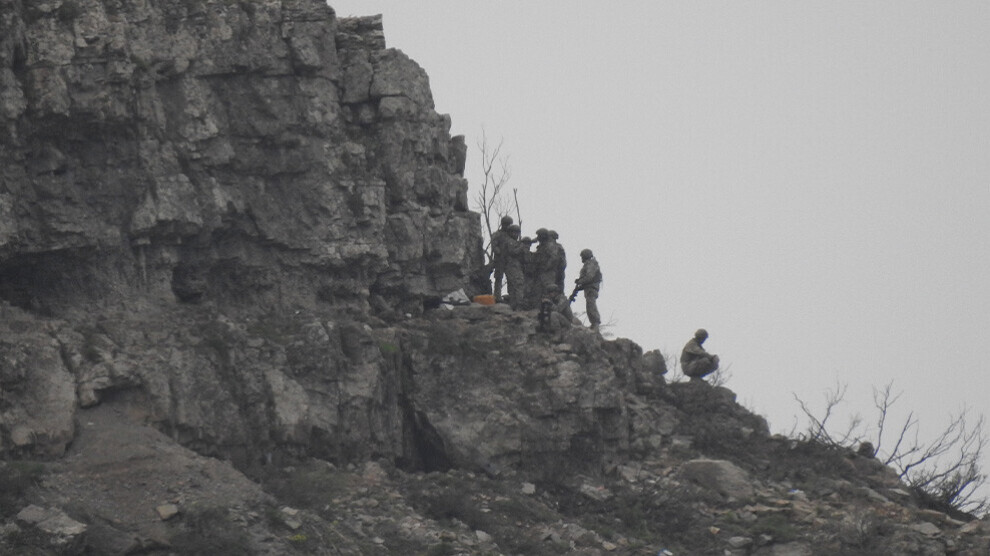 For ten days, seven guerrilla fighters resisted against a Turkish superior force in the Mamreşo region of southern Kurdistan (northern Iraq). ANF has obtained footage of the resistance.
The Mamreşo area was the first target of the Turkish invasion that began on April 23. Seven fighters carried out sabotage operations and assassinations for ten days, inflicting heavy losses on the Turkish army through modern guerrilla tactics. As the Turkish army made no progress on the ground, the guerrilla positions were heavily bombed. However, the guerrillas entrenched themselves in war tunnels and the bombardments were ineffective.
HPG fighters filmed scenes at the Mamreşo. The footage clearly shows the special warfare tactics used by the Turkish army: The Turkish soldiers do not dare to approach the war tunnels and call on the fighters to surrender from afar. They shout, "Give up, if you come out, nothing will happen to you." The guerrilla fighters respond to these calls with hand grenades and gunfire. In this way, they showed their willingness to fight to the death.
Unable to break the resistance, the Turkish army attacked the guerrilla positions with chemical agents. As a result of the use of gas, the seven guerrilla fighters; Serhat Giravî (Kamuran Alpsar), Ruken Zagros (Seer Bingöl), Sarya Diyar (Bişeng Hezer), Canfeda Hesekê (Şehbaz İzzettin Seydo), Xebat Aso (Ubeyt Mevludi), Zafer Tolhildan (Muhammed Abdulkadir Hüseyin) and Kamuran Amed' (Mustafa Şimşek) were martyred.