Protest in Hewler calls for expulsion of the Turkish state from Kurdistan
Upon the call of Kurdistan Communist Party, a protest action against Turkish invasion attacks was held in front of the parliament in Hewler, the capital city of Federal Kurdistan Region.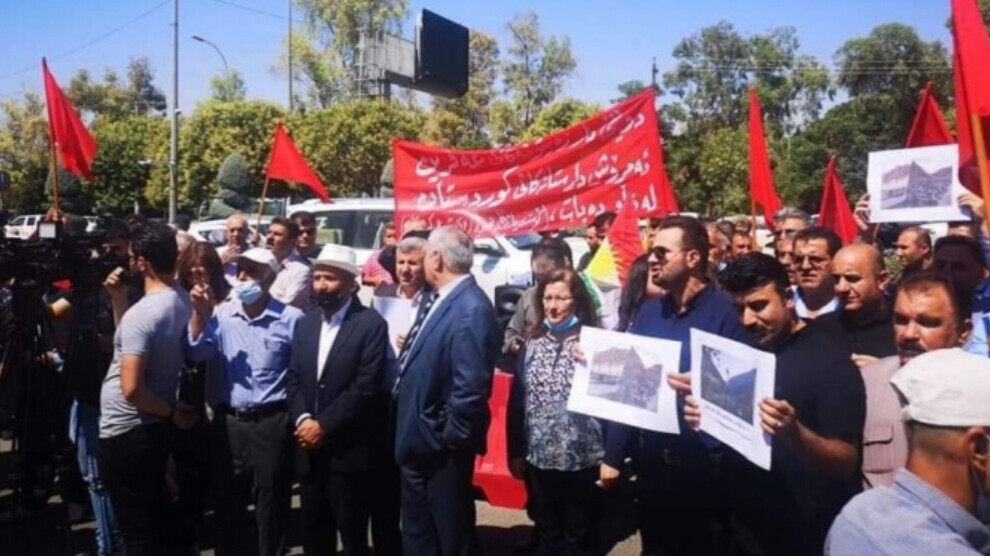 In the region of southern Kurdistan (northern Iraq), the Turkish state has built several military bases for decades. In the recent years, the Turkish state has enlarged both the military bases and invasion borders.
Since April 23, a new invasion operation has been carried out by the Turkish army targeting the Metina, Avashin and Zap regions of Medya Defense Zones.
While many civilian settlements have been targeted and villages have been evacuated, the government of Kurdistan region maintains its silence against the attacks.
On the other hand, popular reactions against Turkey's policies and actions in southern Kurdistan are growing. The Kurdistan Communist Party (KKP) held a protest action in front of regional parliament in Hewler (Erbil) on Monday against Turkish invasion attacks and Turkey's military existence in the region.
A statement read out on behalf of the activists in front of the parliament said, "The agreement between Iraqi and Turkish states on border security must be broken and Turkish invasion policies must be restricted. The Turkish state must be expelled from Kurdistan region."
Pointing to the violation of international law, devastation of the nature and the forests cut down by the Turkish state, the statement expressed that all of these acts are defined as a war crime.
The activists demanding the nature to be protected stated that Iranian state also violated the international law and lastly cut off the water supplies of the region.
KKP said, "Because of the misgovernment in Kurdistan Region, fundamental rights and freedoms are violated every day. Wages of retirees and employees have been reduced. In addition, prices have been increased and taxes cause serious financial difficulties for the citizens."
In the wake of the statement, KKP conveyed its demands regarding the Turkish state's invasion attacks and rights of workers in Kurdistan Region to the parliament.