People of Maxmur: We will resist to the utmost and not live in a prison camp
The people besieged by the Iraqi army in Maxmur Camp are determined to resist the militarisation of the self-managed camp in Southern Kurdistan: "We will not live in a prison camp."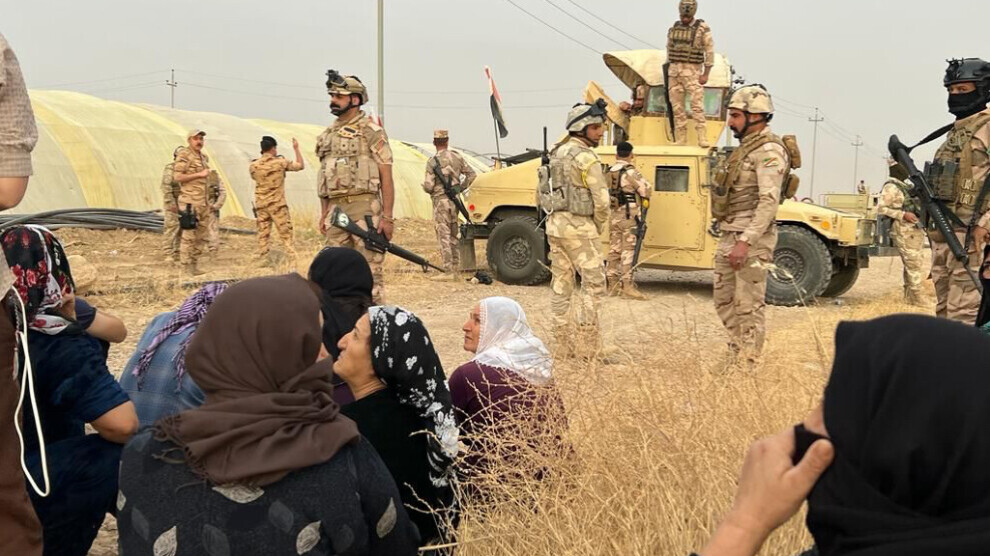 The Iraqi army has been besieging Maxmur Camp for over a week, surrounding the self-governing camp with barbed wire and trenches and installing surveillance towers. The population is putting up determined resistance around the clock and responds immediately to any attempt to advance the militarisation of the camp. When the Iraqi military digs trenches with shovel excavators, the people oppose them in an organised way and fill the trenches back in.
After a young resident was injured by a gunshot on the first day, the Iraqi state is now apparently using attrition tactics. There are military movements around the camp at irregular intervals, most recently on Sunday morning.
Maxmur Camp is home to about 12,000 people with official UN refugee status. These are people who were displaced from their villages in Turkish territory thirty years ago and their descendants. Members of almost every family have died in the Kurdish liberation struggle, and many are still fighting with the guerrillas in the mountains for a dignified and free life with their own identity.
The camp, which is officially under the protection of the UNHCR, is described by Turkey as a "hotbed of terror" and has been continuously attacked by drones for years. The Barzani family, which collaborates with the Turkish state, imposed an embargo on the camp in 2019. Only a few years earlier, KDP chairman Massoud Barzani had visited Maxmur to thank the residents and the PKK for their successful efforts in defending Kurdistan against the so-called "Islamic State" (IS). In 2014, the ISIS hordes were just outside Hewlêr (Erbil), the seat of government of the Kurdistan Region of Iraq.
ANF spoke to the people in Maxmur who are standing guard in tents and resisting the fencing of the camp. Emine Şirnexî said that they are being oppressed by both Ankara and Baghdad and continued: "What do these states want from us? We are refugees! First, they imposed an embargo so that we would die, but we did not die. Whatever they do, it will not work. No one can break us. We will resist to the utmost. They have to come and kill us already. There is no other way."

Another woman on guard, Emine Pîranî, pointed out that the Iraqi army is deploying armoured cars against civilians. "Why didn't they come when ISIS attacked? How can they claim now that they want to protect us?" asked Emine Pîranî and said: "We don't accept this. Everything is the result of Erdoğan's policy of blackmail. We will not accept this cruel oppression. Being besieged and fenced in is massive oppression. We have not harmed anyone, and we defend human rights. We do not sell people and we are open to peace and brotherhood, but we will never accept this siege."

Teacher Hewar Gabarî said that the siege was demanded by Turkish President Recep Tayyip Erdoğan: "We will not accept the siege because it means captivity. We are intended to be taken into captivity. Thirty years after our escape, they want to put us in a prison camp. We will not allow that."

Gabarî appealed to all the Kurdish people, saying: "Support us, stand up everywhere and protest in front of Iraqi representations. If we join hands, we can break the siege."