People in Maxmur speak out on 2nd day of hunger strike
"This camp is 300 kilometers away from Turkey: how can it pose a threat to Turkey?"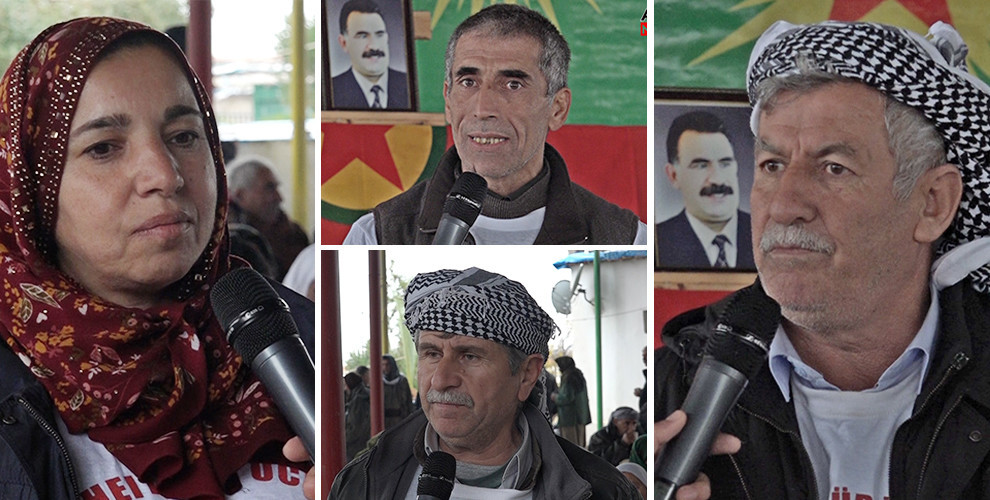 The hunger strike launched at the Martyr Rustem Cûdî Refugee Camp (Maxmur) by the people and members of the Ishtar Council, has entered its 2nd day.
Hunger strike activists have made an appeal to Kurdish institutions and organizations.
The hunger strike activists spoke to ANF.
"The solution is a national unity"
Sufi Tahîr Sîdar said: "Our main aim is to break the isolation regime imposed on Leader Apo and to condemn the airstrikes carried out by the Turkish state on Maxmur and Shengal.
Our answer to these violent attacks is that all Kurdish institutions and organizations should come together, because the solution lies in national unity. We call on the CPT and international institutions to comply with their own laws and regulations".
"Every Kurd should join the protest"
Rebîa Germavî said: "We salute and support the action of Leyla Güven. At the same time, we started this action to demand an end to the isolation imposed on Leader Apo. I call on all the Kurds to take part in the hunger strike actions.
"Only the Leader can stop us"
Rûbar Spîndarokî said: "We haven't been able to get any news from Leader Apo for a long time, so we started a hunger strike as Şehid (Martyr) Rustem Cûdî Camp.
The hunger strike carried out by HDP Hakkari deputy Leyla Güven has reached day 40. Our actions will continue. Only Leader Apo can stop us. I address especially the people of Northern Kurdistan; this is the line drawn by Mazlum Dogan and Kemal Pir. This action is a sacred action."
"They give money and weapons to kill Kurds"
Hüseyin Kara, Co-Chairman of Maxmur People's Council, said: "Every honorable Kurd should stand up against the isolation imposed on Leader Apo, and against the silence of the States that claim to defend human rights and law in the face of the attacks on Kurds and Kurdistan. Instead many of these states give money and weapons to the enemies of Kurds.
This is a civilian camp. International states have recognised this camp as a political refugee camp, so they should act according to their rules. The latest attacks were also directed at the territorial integrity of Iraq. Iraq must take a serious stance about this. This camp is 300 kilometers away from Turkey: how can it pose a threat to Turkey? The Turkish government is attacking this area to empty the camp."