NGOs in Qamishlo call on the KDP to stop serving the enemy
22 NGOs gathering in Qamishlo voiced reaction to the KDP's attacks against Shengal and the guerrillas, saying, "The KDP should give up such practices that serve the enemies of Kurdish people."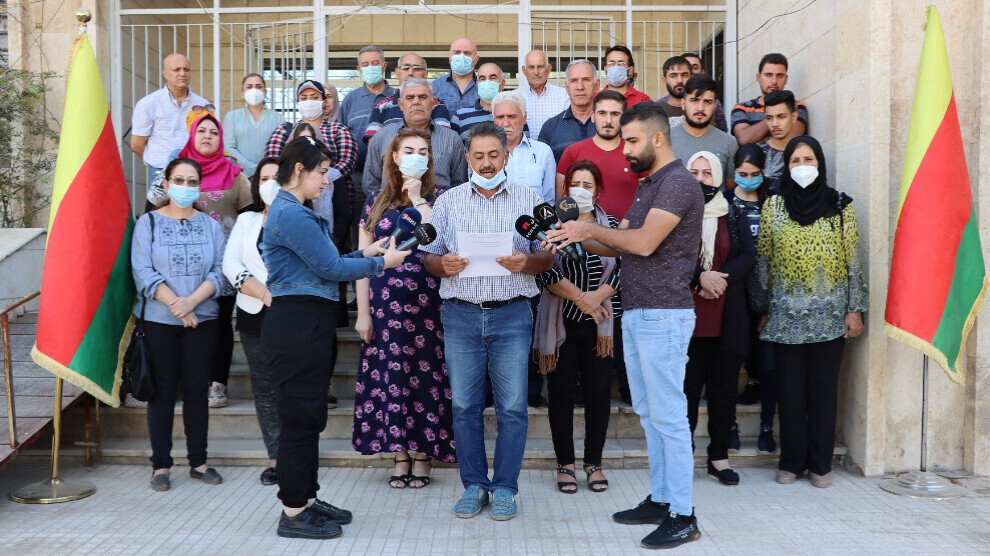 22 NGOs gathered in Qamishlo and made a press statement in front of the Democratic Society Congress (TEV-DEM) office regarding the attacks of the Kurdistan Democratic Party (KDP) against Shengal and the guerrillas in southern Kurdistan (northern Iraq).
The statement, read by TEV-DEM member Ayd İbrahim, said, "The Kurdish movement selflessly struggles to build the national unity of Kurdish people in order to achieve the goals and dreams of the people in all four parts of Kurdistan and to provide security for all peoples in the region."
The statement continued; "Hundreds of Kurdistan Liberation Movement fighters fell as martyrs whilst defending the Yazidis in Shengal; they fought a selfless struggle against ISIS brutality to liberate Shengal. Today, the KDP is attempting to attack Shengal with the support of the Turkish state.
The current practices of the KDP go against the Kurdish cause. The KDP is only paying attention to the interests of its Turkish ally. Despite all this, there is a remarkable stability in Shengal, and Shengal Resistance Units (YBŞ) defend the people against massacres. The people have established a democratic self-governance.
We are concerned about the mobility of the KDP forces in Xelifan where the KDP ambushed and killed 5 comrades of ours.
Through these hostile actions, the KDP aims to eliminate the achievements of the Yazidi community. It should immediately give up such practices that serve the enemies of the Kurdish people.
The national, democratic and social parties in Kurdistan, all Kurdish people and especially Yazidis should fulfil their ethical and national responsibilities against KDP politics."