Names of two guerrillas martyred in Heftanin published
HPG published the full identities of Evîn Şîlan and Bahoz Suruç who fell in Heftanin last summer.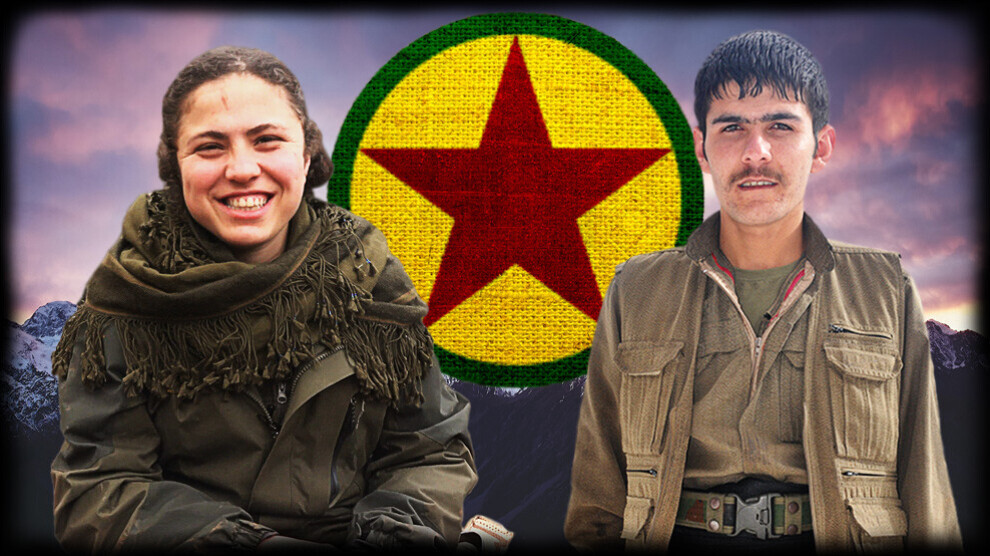 The press center of the People's Defense Forces (HPG) has published the full identities of two martyrs. Evîn Şîlan and Bahoz Suruç died on July 11, 2020, in the course of the battles and airstrikes of the Turkish army in the Şehîd Birhat and Hill Kartal areas in the embattled Heftanin region.
The ID details of the two guerrillas are as follows:
Nom de Guerre: Evin Şilan
First-Last Name: Heyfe Ramo
Birthplace: Qamişlo
Mother's-Father's Name: Gülçin – Şelal
Date and Place of Martyrdom: 11 July 2020 / Heftanin
Nom de Guerre: Bahoz Suruç
First-Last Name: Mehmet Altınel
Birthplace: Urfa
Mother's-Father's Name: İslım – Fehmi
Date and Place of Martyrdom: 11 July 2020 / Heftanin
In memory of the two martyrs, HPG said: "The Turkish colonial state has perceived the existence of the Kurdish people as a threat to its own existence since its foundation. It has never recognized the Kurdish people and does not even tolerate the Kurdish collaborators in its own ranks. It is known from history that after the suppression of Kurdish uprisings, such unfortunate traitors were also shot. The Kurdish people and their brave relatives have learned from history and the analyses of Rêber Apo [Abdullah Öcalan] and now know the character of the Turkish state very well. For this reason, they have formed a steel shield against the occupation operation with a resistance that is steeped in history. The legendary resistance that is being carried out today under the leadership of our heroic martyrs is a legacy that we will speak about with pride in the future.
Heval Bahoz and Heval Evîn were among those who led this struggle. They participated in the revolutionary offensive in Heftanin with great sacrifice and courage and took part in numerous self-sacrifical actions against the occupiers and their collaborators. They came from different parts of Kurdistan. What brought them together was the philosophy of Rêber Apo."
HPG expressed their condolences to the relatives of martyrs and the patriotic people of Kurdistan and vowed that they will continue the struggle of the fallen until victory.