Kurdish parties and intellectuals working for national unity
"I say to all the peoples of the world and our enemy trying to destroy us: Kurdish women will always resist and win with their strong will."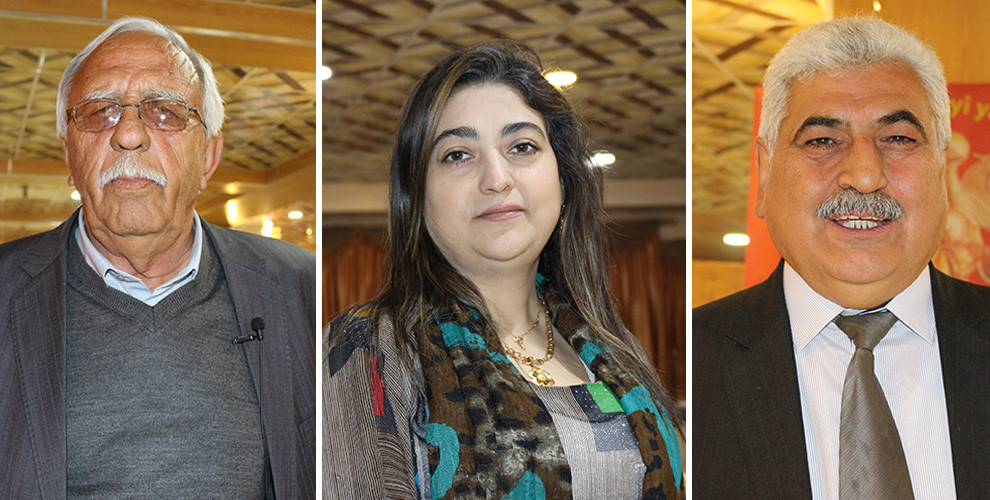 Representatives of the political parties and intellectuals involved in the work carried out by the KNK (Kurdistan National Congress) to build building national unity spoke to ANF about the progress done.
Co-chair of Pariya Guhertin (Democratic Change Party) Mizgîn Zêdan who attended the new meeting said: "It is important for us to be in the same place with the politicians who have common attitudes and ideas on Kurdish national unity which is the dream of every Kurd. We call on all Kurds to come together and work to build national unity. As Kurds, we can meet with our differences on a common line and work together. Of course, there will be differences, but we must build on what we have in common. The National Congress will serve as an umbrella organisation for all Kurds."
Women are leading the society
Zêdan stated that the revolution that took place in Rojava was woman-based and that women were leading the society.
"As women, we set an example for the Middle East in Rojava and took the lead of the society. In the military sense, we are fighting the enemy as YPJ. We protect ourselves against those like DAESH who would like to turn women into slaves. I would like to invite the peoples of the Middle East to see how Kurds respond to these kinds of problems with the national unity congress."
Isolation will end, we commend Leyla Güven
Mizgîn Zêdan condemned the isolation of Kurdish People's Leader Abdullah Öcalan and saluted HDP Hakkari MP Leyla Güven who has been on hunger strike action for 125 days: "The month of March is of great importance for women and especially for Kurds. I would like to commend all women on this precious day. In particular, I would like to commend Kurdish People's Leader Abdullah Öcalan for his efforts towards women's freedom. I condemn the isolation of the Kurdish People's Leader, Abdullah Öcalan and call on all the human rights, all organizations and people to perform their tasks."
Zêdan then thanked "Leyla Güven and all our friends on hunger strike. I condemn the mentality that wants to end Kurds. Here I say to all the peoples of the world and our enemy trying to destroy us: Kurdish women will always resist and win with their strong will."
Kurds are defeating DAESH
Partisi Çepgir a Kurd li Sûriyê (Kurdish Left Party) Syrian Secretary General Mihemed Mûsa said that there have been many changes from the past to the present.
He stated that in the past there was a negative opinion about the unity of Kurds in Rojava and Syria and yet this has now turned into a positive idea.
Mihemed Mûsa said: "Today, Europe, America and even Russia are actually saying that they are not completely opposed to developments in Rojava, Northern and Eastern Syria. Today we say that international states should take more important steps on this basis and favour positive developments. they must provide safety.
For so many years, we have resisted and fought against terrorist forces such as DAESH. We cannot accept them to approach as if nothing had happened in this region. We are now counting hours or even minutes, as we expect the SDF forces to announce the final defeat of DAESH. We have not made this resistance for ourselves, but for the peoples of the whole world. A terrorist force had become a danger for the whole world."
The Kurds, said Mihemed Mûsa, "have defeated DAESH proving to be the backbone of the solution. Any political solution in Syria should be found within Syria."
Mihemed Mûsa ended his remarks by condemning isolation of Kurdish People's Leader Abdullah Öcalan.
"President Öcalan has been in isolation for two decades in prison. There has been no response from the international states to this day. A solution for the Kurds in Syria is needed and isolation on Öcalan must end."
Historic phase
The President of the Syrian Kurdish Writers Union, Dilawer Zenkî, said: "We have to say that KNK is a great opportunity for the Kurds.
The defeat of DAESH was achieved by the YPG, YPJ, SDF forces. What is happening now is of historic importance. Our expectation from all parties involved in this process is that everyone performs their duties in these historic times. We must achieve unity to get the rights of Kurds."
Zenkî added: "All Kurdish political organizations, intellectuals and academics must act in unity and stand against the isolation in Imrali. I urge everyone to break this circle that has been woven around President Öcalan."