HPG: Two Turkish soldiers were killed, one helicopter damaged
YJA Star guerrillas hit Turkish army combat helicopters in Metîna, preventing air strikes on the villages of Hiror and Kestê. In Avaşîn, a sabotage action by guerrillas left two Turkish soldiers dead.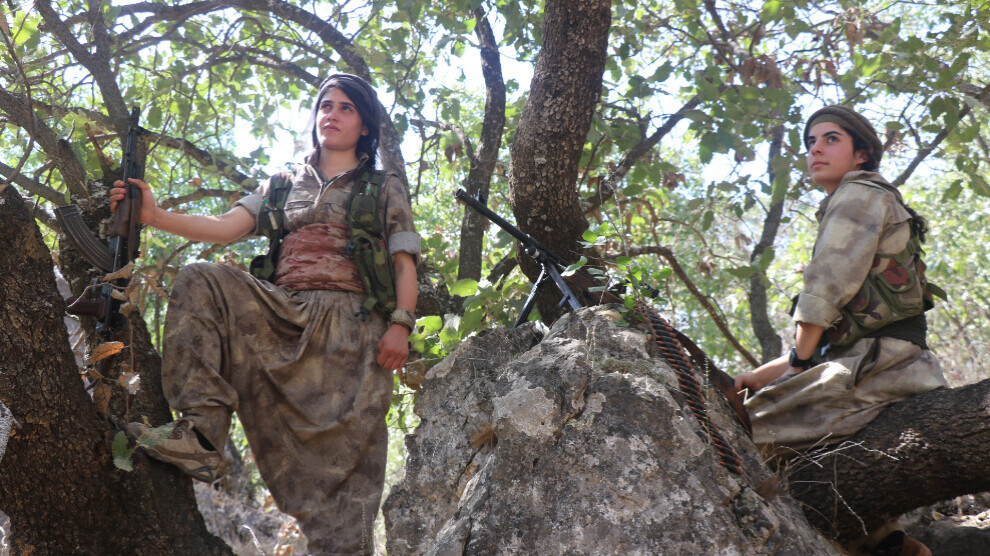 The Kurdish women's guerrilla force YJA Star struck Turkish army helicopters in Metîna, preventing air strikes on civilian settlement areas. According to a statement by the People's Defense Forces (HPG) on the current war in Southern Kurdistan, the aircraft were on an attack mission against the villages of Hiror and Kestê late Friday evening. The guerrillas proceeded in two wings and opened heavy fire on the helicopters, hitting at least one badly.
Earlier in the day, the HPG conducted a sabotage action in Avaşîn against the occupation forces at Girê Silêman. At least two soldiers were killed in the action and were evacuated from the combat area by helicopter.
Fighting in Werxelê
In the Werxelê area, fierce fighting broke out again yesterday between the guerrillas and occupiers. Before the repeated attempt to advance, the Turkish army bombed the tunnel facility there with heavy weapons, but had to withdraw again as a result of the resistance by the guerrillas.
Further attacks by Turkey
Regarding further attacks on regions in the Medya Defense Zones on Friday, HPG said that in Gare, the Kafya area was attacked by fighter jets at around 3 p.m.. In Metîna, helicopter movements have been recorded along the Qaşûra line between 3 p.m. and 11 p.m. The surrounding areas of the villages of Êdinê, Dêşîşê and Serarû in the town of Kanî Masî as well as the immediate vicinity of Koordîne were simultaneously bombed by combat helicopters and troops at the border posts of the Turkish military. Additional air strikes were recorded in the Zap region at 3:30 p.m.. The targets of the attacks there were the areas of Karker and Saca.