HPG: Turkish occupiers will be given the most resolute response
"Our forces, who are inflicting major blows against the enemy on daily basis, will respond to these invasion operations in the most effective way and make the Turkish invasion state suffer the heavies blow in its history."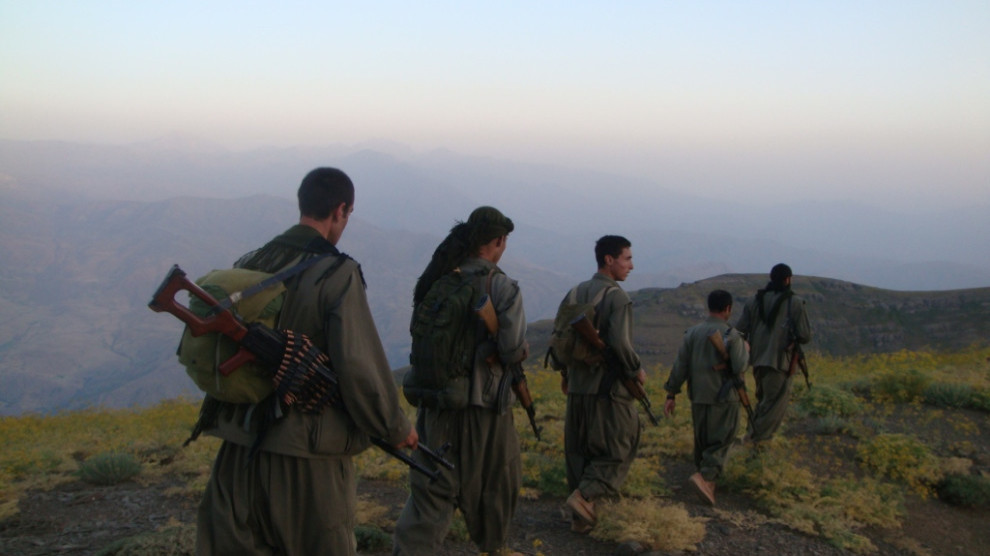 The Press Office of People's Defense Forces (HPG) released a statement detailing the guerrilla actions and Turkish military attacks in Kurdistan territory.
The statement includes the following;
ÇUKURCA
As part of the Martyr Bager and Martyr Ronya Revolutinary Initiative, HPG forces carried out a sabotage action targeting an armored vehicle of the Turkish army on move between Hakkari's Çukurca (Çele) district and the Eriş outpost. While the armored vehicle was completely destroyed, the number of dead and wounded soldiers couldn't be clarified. Following the action, the Turkish army shelled the area at random with heavy weapons.
At 13:30 on August 28, our forces destroyed a depot of the Turkish occupation forces stationed on Hill Sive in Hakkari's Şemdinli (Şemzinan) district. The number of soldiers killed or wounded here couldn't be clarified.
HEFTANIN
The Turkish invasion army continued with their bombardments as part of their ongoing invasion operation in Heftanin region of Medya Defense Zones.
Turkish fighter jets and attack helicopters bombed the Partizan area from 01:00 to 02:00 am on August 27.
While attack helicopters shelled the areas of Partizan and Geliyê Pisaxa from 21:00 to 22:00 on August 28, simultaneous bombardments were carried out against the same areas from the Turkish outposts on the border line. These attacks did not result in any losses in our ranks.
AIRSTRIKES AGAINST MEDYA DEFENSE ZONES
Turkish warplanes bombarded the surroundings of Kozine village in Qandil region at 13:00 and the Gunde Guze area in Gare region at 14:00 on August 28, and the Geliye Avashin area in Avashin region on August 29.
The bombardments did not cause any losses or injuries in our ranks but started a fire in forestland.
"THE TURKISH STATE WILL SUFFER THE HEAVIEST BLOW IN ITS HISTORY"
The Turkish invasion state has been reporting about a so-called 'Decimation 2' operation launched against our forces in the Mardin-Batman-Şırnak triangle area, a follow-up of the 'Decimation' operation started in the Hakkari-Van-Şırnak triangle area.
The mentioned invasion operation in Hakkari, Van and Şırnak region, which they alleged as "successful" while the Gendarmerie Commander General claimed to have "cleared the mountains of guerrillas", was merely subjected to a "decimation" with a series of actions carried out by guerrillas. The various action tactics developed by the guerrilla against the occupiers in the operation zone left more than 20 enemy soldiers dead. These actions of the Kurdistan guerrilla have devastated the psychological campaign of the fascist Turkish state. The blows inflicted by the guerrilla on the enemy from Beytüşşebap to Cudi, from Cudi to Qileban, have brought the entire truth to light and exposed all the lies of the fascist Turkish state. Suffering heavy losses against the guerrilla, the Turkish invasion army has been trying to cover up the true results of the war by launching further operations. Our forces, who are inflicting major blows against the enemy on daily basis, will respond to these invasion operations, whatever their names might be, most resolutely and make the Turkish invasion state suffer the heavies blow in its history."