HPG: 15 Turkish soldiers were killed in Zap
The guerrillas continue their resistance against the Turkish invasion of southern Kurdistan. While fifteen soldiers of the Turkish army were killed in recent actions, Turkey continues to rely on chemical weapons to achieve results.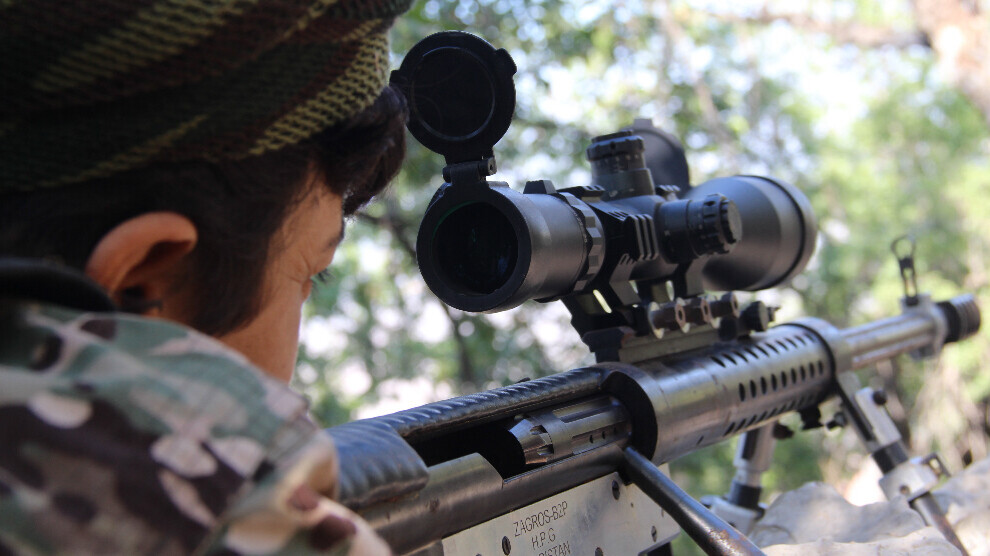 The press office of the People's Defense Forces (HPG) reported in its daily statement about the ongoing war in guerrilla-held Medya Defense Zones that 15 members of the Turkish occupation forces have been killed in the latest guerrilla actions against the Turkish invasion of southern Kurdistan (northern Iraq).
HPG pointed out that the Turkish army used chemical weapons combined with explosives 38 times against guerrilla positions in Zap on Saturday. The smoke and fog agents were of different colors, it said. HPG put the number of airstrikes against targets in Zap, Metîna and Avaşîn at 56 for the same period. In parallel, hundreds of shells fired from Turkish outposts hit southern Kurdistan soil. In the greater Amêdî area, permanent reconnaissance flights using mini drones have been taking place since Friday evening.
According to the HPG statement, details of Saturday's (May 21) actions are as follows:
At 11:50 a.m., a drone sent to reconnoiter war positions in the Şehîd Tolhildan area was struck and damaged by guerrillas in Kuro Jahro. A few hours later, the same area was attacked seven times with chemical warfare agents and explosives. Around 3:30 p.m., a group of soldiers in protective suits tried to approach the guerrillas' defensive positions. Guerrillas from YJA Star (Free Women's Troops) responded with a sabotage action and initially pushed the occupation forces back. An attempted advance that immediately followed was stopped by guerrillas with hand grenades and light weapons. At 5:25 p.m., guerrillas targeted the soldiers from close range. In total, at least six soldiers were killed and three others injured in this series of actions by YJA Star guerrillas.
In the resistance area of Şehîd Şahîn, Turkish forces bombarded the Şehîd Hewrê war positions at 4:15 p.m. before soldiers attempted to infiltrate the area. By means of sabotage actions by guerrillas, the troops were pushed back, and two members of the Turkish army were killed. At about the same time, a YJA-Star unit at the defensive positions of Şehîd Berxwedan again struck soldiers at close range, killing two of them.
In Şikefta Birîndara, a drone came under fire at 19:20. Around midnight, Turkish combat helicopters engaged in aerial activity there as well as in the areas of Karker and Çemço. The guerrillas took the aircraft under massive artillery fire and forced a retreat. Throughout the day, the areas of Şehîd Hewrê, Şehîd Berxwedan, Şehîd Şahîn, Şehîd Tolhildan, Şikefta Birîndara and Çiyareş were targeted by at least 31 attacks with chemical weapons and explosives producing smoke of different colors.
Another guerrilla action in the resistance area of Şehîd Şahîn was directed against the Turkish occupation forces on Friday evening. Turkish military units were attempting to install their own posts in the area surrounding the defensive positions of Şehîd Berxwedan when they came under fire from close range. At least four soldiers were killed, and a military camera surveillance system was damaged. On Saturday night, the Turkish army evacuated its dead soldiers under the cover of airstrikes. Meanwhile, in Şikefta Birîndara, a targeted attack resulted in the death of a Turkish soldier.