HPG: 15 Turkish soldiers killed in Xakurke
In the South Kurdistan region of Xakurke, at least 15 Turkish soldiers have died in a series of actions by the HPG and women's guerilla forces YJA-Star.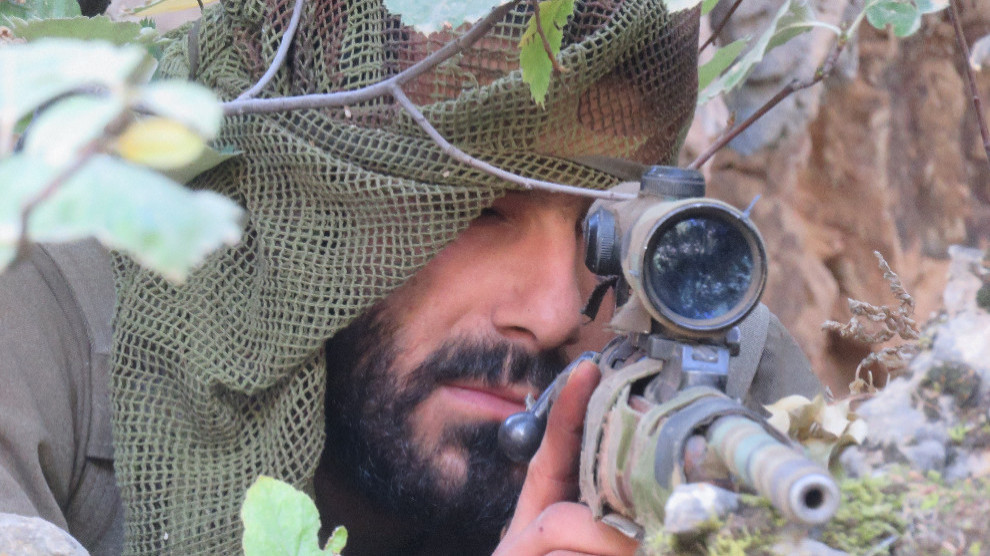 In the Medya Defense Zones in South Kurdistan, 15 soldiers of the Turkish army died in a series of guerrilla actions, according to a statement by the Press Office of the People's Defense Forces (Hêzên Parastina Gel, HPG).
The series of actions, in which fighters of the women's guerilla troops YJA-Star were also involved, took place on Tuesday as part of the "revolutionary offensive in memory of Şehîd Bager and Şehîd Ronya" in the Xakurke region of southern Kurdistan, northern Iraq.
Guerrillas hit a group of Turkish soldiers laying ambush in the vicinity of Hill Şehîd Axîn from three sides. Four soldiers were killed and an unknown number of other members of the Turkish occupying forces were injured here.
This was followed by a sabotage action against advancing reinforcements. While the military unit suffered heavy losses, a second reinforcing unit was also targeted by the HPG and YJA-Star guerrillas. At least seven soldiers were killed by heavy fire, whereas the number of those injured is unclear. After the operation, the Turkish army bombed the area at random with mortars and howitzers. The guerrillas involved were able to retreat to their base without loss.
A soldier shot by a sniper
The HPG also reported that another Turkish soldier was shot dead by a sniper at the nearby Hill Şehîd Derwêş.
Guerrillas then targeted the positions and shelters of the Turkish troops on Hill Şehîd Sarya, which left at least three soldiers dead. Under the protection of attack helicopters, the Turkish army evacuated their injured and dead in the evening.
YJA-Star action in Heftanin
Another sniper action took place in Heftanin on Tuesday. Since August 23, Turkey has been trying to occupy the guerrilla zone, which is also located in the Medya Defense Zones. Within the framework of the "revolutionary offensive Battle of Heftanin" proclaimed on this occasion, a sniper action on Hill Şehîd Şexmus took place. One soldier was killed here.