"History and memory detonated in Hasankeyf"
Defenders of life gathered for Hasankeyf said, "Hasankeyf is our hope, you can't detonate our hope". In the action, defenders pointed out that over 10.000 people will be forcibly displayed with the completion of the dam.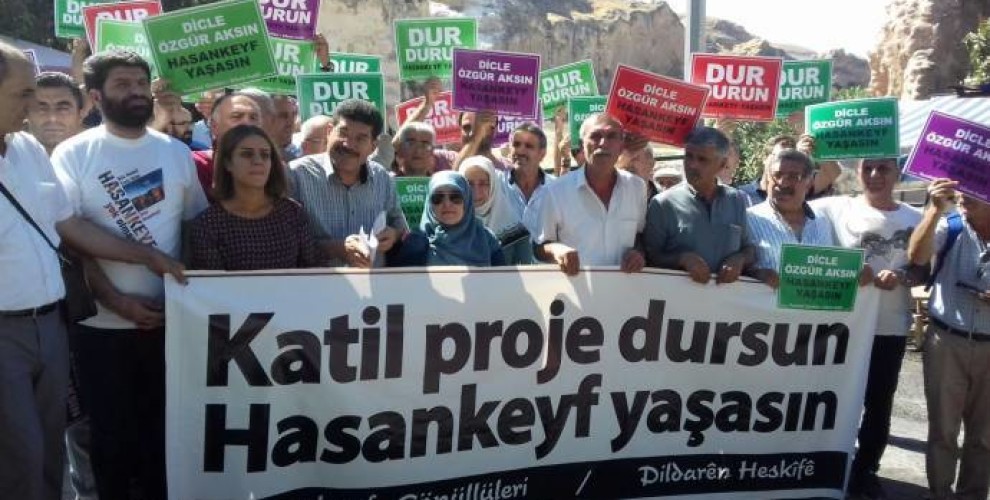 On the Initiative to Keep Hasankeyf Alive's call, artists, NGO and political party representatives, dozens of environmental assocaiations, and many activists from Istanbul and other cities in the country came together under the motto "We flow like the water into Hasankeyf" as part of the 2nd Global Hasankeyf Action Day events.
Demonstrations were held in 13 cities throughout the world (Hasankeyf, Sulaymaniyah, Rome, Barcelona, Bilbao, Brighton, Geneva, Berlin, Hamburg, Frankfurt, Hannover, Munich, Port Townsend). The defenders of life gathered in Hasankeyf held their demonstration in front of the historic El Rizk Mosque. Activists clapped and held a banner that read "Stop the murderous project, keep Hasankeyf alive" and signs that read "Stop! Let the Tigris flow free let Hasankeyf live".
"THEY WANT TO EXTINGUISH THE SUN OF THE PEOPLES OF THE REGION"
Eastern and South-Eastern Associations Federation Chairperson Abdulhakim Daş read the joint statement and pointed out that Hasankeyf's significance is both historic and mythological: "In our mythology the sun is associated with fire, so people don't put out fires with water but wait for it to burn out. Today, there are those who want to flood Hasankeyf with the Ilısu Dam and extinguish the sun of the peoples of the region with the waters of the Tigris."
Daş stressed that Hasankeyf is a place that can shine a light on 12.000 years of human history with a vast amount of archaeological data within, and stated that the dam will sever all ties with the past for the peoples of the region and humans in general. Daş also said the dam will flood many cultural entities as well as residential areas, and will force over 10.000 people to migrate.
Daş said: "Hasankeyf is the product of not mere decades, but millennia of history and labor. It is unacceptable that residential areas of ancient peoples and everything the peoples have inherited be destroyed in a whim with no return, for a dam that only has a lifespan of a couple of decades."
"WE ARE STRONGER THAN YOU"
Daş continued: "Hasankeyf is our hope, you can't detonate our hope. Your dynamites are only good for exposing your own lies. You are not omnipotent. The dams you build in Munzur, in the Black Sea and here, at the expense of life, will one day come down. The ecosystems will be restored and the waters will flow free. Children will play once more by the riverbeds, fish will swim freely, land will meet water once again, birds and thousands of animals will once more build their nests around the rivers, saplings will blossom and life will return. Because we are stronger than you."
"HISTORY AND MEMORY DETONATED"
HDP Batman MP Mehmet Ali Aslan stated that history and memory are being detonated along with Hasankeyf, and called for a joint struggle.