Hewlêr hunger striker: This will be our spring
"Let us end this persecution in unity and solidarity. Peace and freedom cannot be achieved without paying a price. Let's prepare for this Newroz and for a future of peace and without isolation. Our success is closer than ever."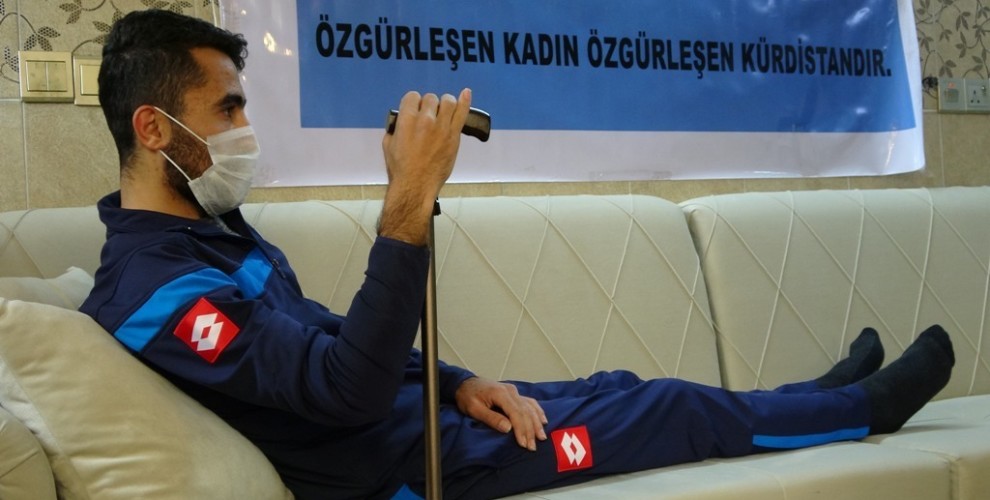 Two hunger strikes are going on simultaneously in Hewlêr: while HDP representative Nasır Yağız has been fasting uninterruptedly for 110 days, the short term fast has been taken over by the 55th group of activists.
ANF talked about the story of his 110-day resistance against the isolation of Abdullah Ocalan with Nasır Yağız, whose health problems are getting worse.
I get my strength from women
Saying that he wanted to be the voice of the DTK co-chair and HDP Hakkari MP Leyla Güven, who launched the hunger strike resistance, Yağız added that he underwent this long marathon with the courage of the Kurdish women's power.
Yağız pointed at the successes of YPJ fighters against DAESH in the past 110 days and added that this increased his determination on the hunger strike.
Hunger strike spreading in South Kurdistan
Yağız said that the hunger strike spread from Hewlêr to Maxmur, Sulaymaniyah and Kelar.
In Kelar, engineer Herêm Mehmud is on an indefinite hunger strike since 24 February. Mehmud was followed on 25 February by artist Cuma Kerim and on 26 February by teacher Serdar Melihe.
According to Yağız the participation of Herêm Mahmud and Şeyma Ednan in the hunger strike indicates that the Freedom Movement is getting better understood in South Kurdistan.
Yağız said that this showed a stronger determination to reclaim South Kurdistan.
"I hope - he said - that this hunger strike will be a step further on the way of a South Kurdistan revolution. I greet the hunger strikers."
'We want our leader to be freed'
Yağız underlined that the demands of the hunger strikers are legitimate and for the whole society. "We don't want just the end of isolation. We want our leader to be freed. That's why we have gone on hunger strike."
Morale and enthusiasm are high
Speaking about his health, Yağız said: "Is not just my body which is fading away every passing day, all my comrades on hunger strike are in the same condition. But this is the price to pay on our way to victory. Right, - he added - I can't stand up any longer, my body aches, but I have the hope of victory. Since I began fasting and until today, morale and enthusiasm have been high."
Health Problems
Acknowledging that the tiredness and pain increased every day, Yağız said that his eyes also have problems. "Now - he said - the worst are the headaches and the fact that I can't sleep."
Yağız said that he could only sleep 2-3 hours a day: "I can't get out of bed until after noon. I can stand up with the help of my comrades. They help me take some steps."
This spring will be ours
Yağız believes that the demand of ending isolation will spread even further during Newroz.
Urging Kurds to be on the streets with the spirit of Kawa the Ironsmith, Yağız said: "Let us end this persecution in unity and solidarity. Peace and freedom cannot be achieved without paying a price. Let's prepare for this Newroz and for a future of peace and without isolation. Our success is closer than ever. This spring should be our spring. This spring we will succeed."