Farewell to the guerrillas in Shengal with glorious ceremony
HPG and YJA-Star guerrillas said goodbye to the people with a glorious ceremony in Shengal and left the region.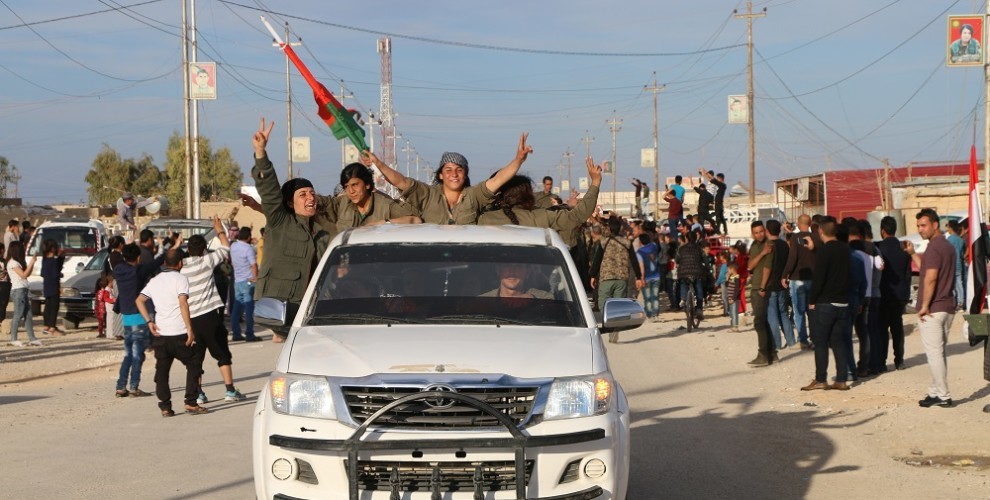 HPG and YJA-Star guerrillas who completed their duties said goodbye to the people with a glorious ceremony in Shengal.
The Kurdish Freedom Movement guerrillas answered the cries of the Êzidî people on August 3, 2014 and handled the defense of the people for four years, while working so the Êzidî people would achieve their own power. The KCK statement said the guerrillas had completed their duties successfully and could return to their own areas in good faith as the Êzidî people had achieved enough strength to handle their own defense.
With this, some groups from the guerrilla forces had left Shengal. The last of the remaining guerrilla forces headed out with a ceremony on the Shengal Mountain. A large group of people were present in the ceremony which included some very emotional moments.
HPG Shengal Commander Egîd Kelar spoke in the ceremony and stressed that the guerrillas have been part of the great struggle in Shengal to date, and that their priority task has always been to defend the people. Kelar stressed that they are headed to the free mountains with the sacred duty of protecting human life completed, and continued:
"Today, with the ceremony held on the Shengal Mountain before our martyrs, as HPG and YJA-Star guerrillas we are removing our last group from Shengal. When we first came here to defend Shengal, our goal was to defend the Êzidî people and the peoples of the region. Our guerillas have completed this duty fully to this day. The Êzidîs are an ancient and dignified people. That is why it is our duty and honor to defend this society. We rest easy in the knowledge of a task completed in enthusiasm."
"WE HAVE SORROW AND CONFIDENCE"
In his speech Kelar stated that the picture today is very different from the first days of the firman and that the Êzidî people have since achieved the strength and consciousness to be able to defend themselves. Kelar continued:
"Leader Apo has constantly spoken about the need to defend the Êzidî people and to not abandon them. Leader Apo has given us a historic and dignified duty to defend the Êzidî people and to help them succeed. Today as the children of the people we have fulfilled our duty. When we first came here, our people were facing a massacre. In the heat of the summer, mothers and children were faced with a massacre. That is why the most valuable and honorable thing to do was to support and defend this society. With orders from our central command, our forces arrived in Shengal the day after the firman. They completed the duty of defense they were given as it should. Those were very hard and laborious days. They were truly days of heavy prices paid. The comrades did what they had to do for the period. Our comrades pushed the limits and many of our friends were martyred on this path. There were those with much more resources who betrayed the people and fled, but the guerilla used their resources as best they could and defended the people, and they fulfilled their duty to this day."
"EZIDI PEOPLE ARE NOT DEFENSELESS ANYMORE"
HPG Shengal Commander Egîd Kelar continued;
"We can say that we have fulfilled the instruction given by Leader Apo, and we have completed our mission. We managed to rescue our people from genocide. These efforts have reached such a level that our people have founded several institutions today. Their political and defense institutions are sufficient fort hem. These people can govern themselves and defend their lands today. This is what this society needed. Just like our comrades embraced these people, they also embraced our comrades and always saw them as their own children.
We are at the cemetery of martyrs now. Hundreds of martyrs lie here. Hundreds of guerrillas have sacrificed their lives to defend this society and liberate our people. We commemorate all our fallen comrades here today. We consign our martyrs to our people. We hold our head high and we stand here before our people. We are happy that our people can defend and govern themselves today. This struggle will continue. We believe that our people can defend themselves in every way against barbaric gangs like AKP and ISIS. Our people have reached the level of destroying these gangs. This is why our morale is high. The leave of the guerrilla will be a strength for our people, but not a weakness.
On this basis, our guerrillas are withdrawing from Shengal in accordance with the call issued by the KCK. We are ready to intervene for all four parts of Kurdistan whenever there is need, and this goes for Shengal as well. Nobody should doubt that guerrillas will be here in the event of an attack and injustice against our people. We are doing this for our people and we will continue doing the same. We are honored and honest after all the fight we have given so far. We believe that this cause will continue with success. We promise our people again that we are ready for any duty for the defense of Shengal. We are happy to have fulfilled the instruction of Leader Apo. We salute all the comrades here, wish our people and our comrades success in their struggle. We are the comrades of the same cause. On this basis, we say Long Live Leader Apo!"