Demonstration in İdil: Armored cars out of our neighborhood!
In İdil, hundreds of people took to the streets in support of seven-year-old Mihraç Miroğlu, who was killed by an armored police vehicle, and protested against the deadly police terror in residential neighborhoods.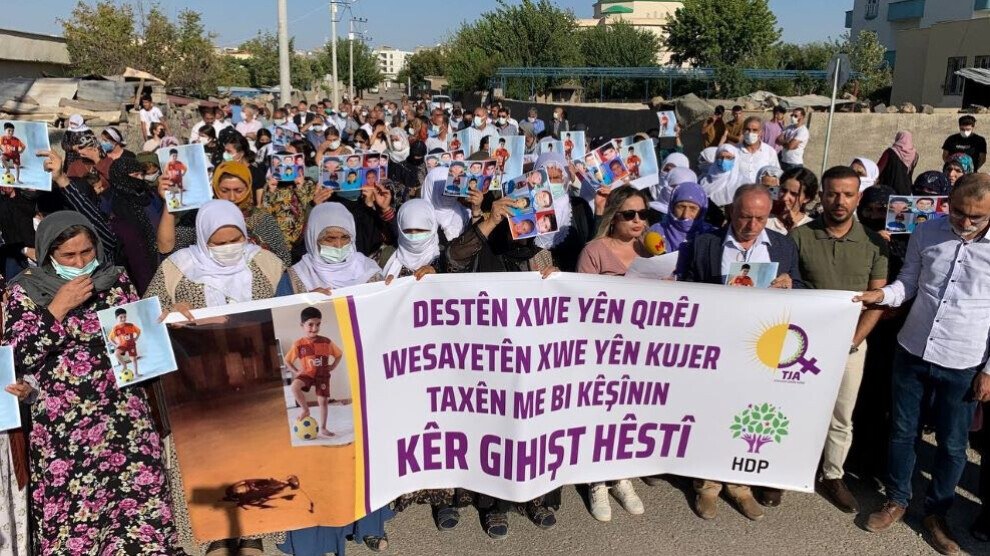 Hundreds of people took to the streets in Idil district of Şırnak province in support of Mihraç Miroğlu. The seven-year-old was hit by a police armored car while riding his bicycle in the Turgut Özal district of the city on Friday evening and succumbed to his injuries in hospital a short time later. Among others, HDP deputies Hasan Özgüneş and Hüseyin Kaçmaz, activists from the women's movement TJA and artists from the Mesopotamian Cultural Center Botan took part in the demonstration. The crowd gathered in front of the house of the family of the boy who was killed and walked up to the site of the accident. Carnations were laid there.
In a speech, City Councilor Elfesya Nas of the HDP called the deadly incident "armored terror" and a "method of punishment" by the state against the population. She said complaints had been made to the authorities several times because armored vehicles were constantly speeding through the residential neighborhood. "Despite this, no measures have been taken, the lives of the people here do not count. Enough is enough, finally get out of our neighborhood with your killer vehicles," the politician demanded.
HDP deputy Özgüneş noted that 92 people have been hit by armored cars in the Kurdish provinces since 2008, with 40 people killed. The drivers have only been held accountable in exceptional cases, he said. "If we shout a slogan, we go to jail for ten years. Kurdish children, on the other hand, can be killed with impunity," the HDP deputy said.
Following the speeches, musicians from the Mesopotamian Cultural Center sang songs in memory of Mihraç.