Behdinan activist detained for 16 months to appear in court
Berivan Ayub Hassan has been in pre-trial detention in Hewlêr since October 2020 on charges of "undermining national security". In mid-February, the mother of five is to appear in court for the first time.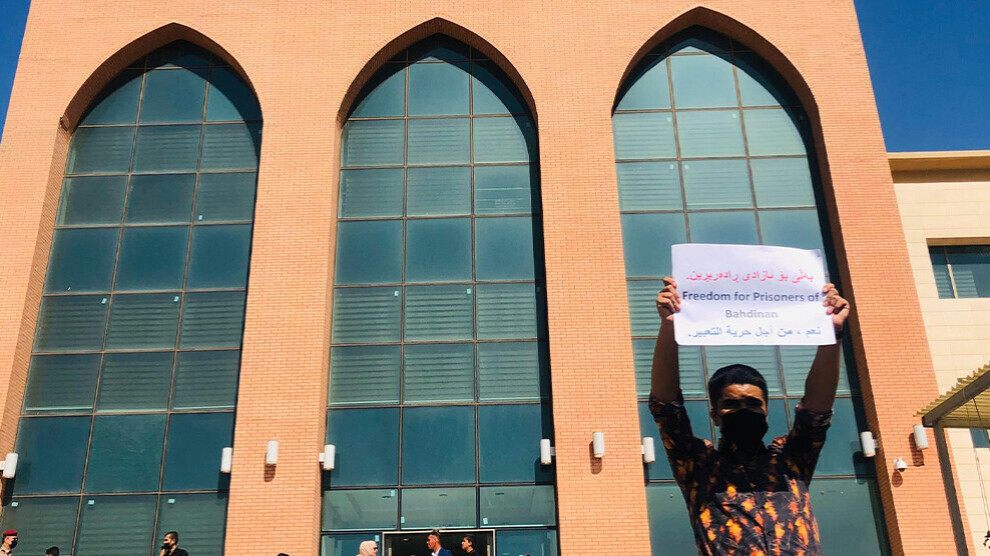 In the case of an activist detained in Hewlêr (Erbil) for more than a year, the date for the start of the trial has been set. After sixteen months in a detention centre of the Asayîş (Public Security Force) intelligence service, Berivan Ayub Hassan is to appear in court for the first time on 14 February. The trial will be held at a criminal court on charges of "undermining national security".
Berivan Ayub Hassan has been in prison since 13 October 2020. She is accused of being a member of the Kurdistan Workers' Party (PKK). The accusation is connected to the anti-government protests in the Behdî-inan region, in the wake of which more than a hundred activists, media workers and teachers were arrested. Some of those involved, including several journalists, have already been sentenced to several years in prison.
Berivan Ayub Hassan lived in Duhok until her arrest and is the mother of five children. Shortly after her arrest, her husband separated from her. According to the human rights activist Kamaran Osman from the Christian Peacemaker Teams-Iraqi Kurdistan (CPT-IK), Hassan has only been allowed one visit from her legal counsel during her pre-trial detention, which has now lasted over fifteen months. "To protest against this and the long time without charges in prison, Berivan has gone on hunger strike at least six times so far. She has also contracted diabetes while in detention," Osman said. The CPT-IK criticised the Behdinan prisoners' arrests as politically motivated and has already called on the government of the Kurdistan Region of Iraq (KRI) several times to release the detainees immediately.
CPT-IK also criticised the prison conditions of the detainees, saying they were "deplorable". The "Initiative for the Rights of Behdinan Prisoners", which is largely made up of relatives, described the prison situation of the accused as "inhumane". The prisoners are subjected to extreme overcrowding, lack of ventilation, heat or cold depending on the season, lack of or no medical care and denied access to sanitary facilities. "Inhumane conditions" with the aim of attrition, the most severe mistreatment and torture prevail especially in the detention centres operated by the Asayîş Intelligence Service - which is subordinate to the National Assembly and regional government and is responsible, among other things, for counter-terrorism and the prosecution of political crimes. These accusations are also made by the defence of the Behdinan prisoners.