AKP finds people massacred in Cizre guilty
Mehmet Erdoğan (75) was shot on his head by the police in Cizre and his body was left out on the street for one full day, with his bag of groceries in his hand. The Ministry of the Interior found him guilty "because he left his home".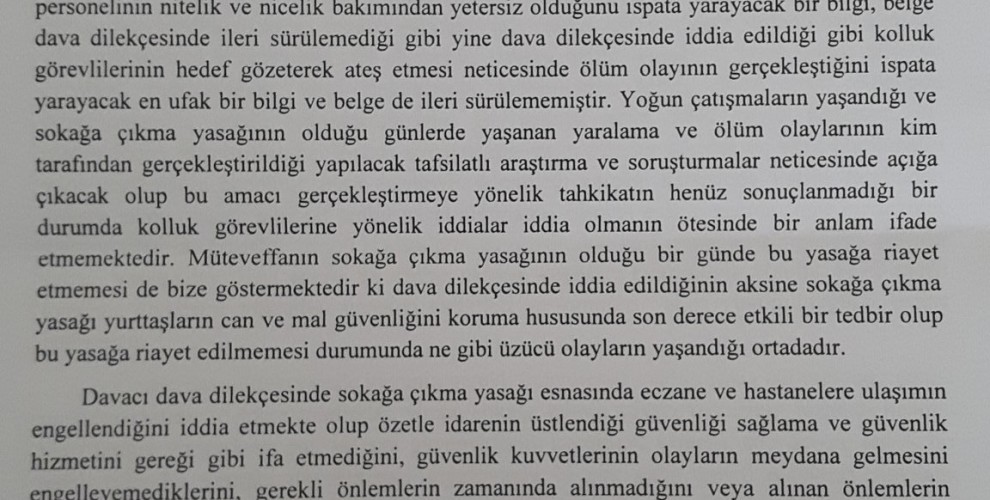 130 people had been burned to death by the police and the army in three basements they took cover in from the clashes during the "curfew" enacted in Şırnak's Cizre district. Dozens were shot to death during this "curfew" in and around their homes and in their streets.
Mehmet Erdoğan was 75 and had 5 children. He lived in Cizre's Cudi neighborhood. He left his home on September 11, 2015 to "find bread" and was killed by a shot to the head by the police.
Erdoğan's body was not allowed to be retrieved for three days. The body was left to rot on the street, with a bag of bread beside it, only to be retrieved by a delegation that was able to enter the district after the curfew was lifted.
Following the death, Erdoğan family's lawyers sued the Ministry of the Interior for criminal responsibility. The Ministry of the Interior Undersecretariat of Law gave a scandalous response to the lawsuit.
The Ministry argued that Mehmet Erdoğan was guilty for "not complying with the ban and leaving his home during the days of curfew", and claimed the Cizre District Security Directorate and other officials on duty had no fault.
In their defense, the ministry said: "In the incident in question, it is very clear that no documents or information have been submitted to lead to conclude that the administration is at fault, and considering the circumstances, that there is no fault in service in the context of the incident."
"NO FAULT IN SERVICE"
The Ministry of the Interior does not acknowledge any fault at all with the administration and lists the three conditions of "fault in service" as: "These are bad, delayed and nonexistent service situations. To speak of the presence of a fault in service in an incident; a malfunction, disorder, inaccuracy, deficiency or disability must have occurred due to necessary orders, directives or instructions not being given, the inspection being insufficient or nonexistent, tools and vehicles assigned for the service being deficient or lacking, necessary precautions not being taken, or not being taken in time, action not being taken or taken late regarding the public service the administration is responsible for providing, and the resulting damages must have been caused by causes listed here."
"PROVE THAT THE POLICE FIRED THE SHOT"
The defense also said: "There is not a shred of information or evidence to prove that the death incident occurred due to the security forces deliberately targeted and fired shots as claimed in the casefile."
"ACCESS TO PHARMACIES AND HOSPITALS WAS NOT BARRED"
The Ministry of the Interior also denied that access to pharmacies and hospitals was barred during the "curfew" and claimed:
"Cizre District Security Directorate stated that the necessary precautions and assurances were taken sufficiently and effectively as part of the coordination with relevant institutions regarding possible risks during the operation planning and preparation before the operational use of force and during the operational use of force itself. To this extent, the residents were aided by the security forces in coordination with the Cizre District Governorate to leave the district. The Cizre District Governorate led the efforts to provide shelter and food aid to the citizens and allowed 112 Emergency Services ambulances to enter the operation grounds to ensure safe exit/evacuation of persons claimed to have been found wounded inside the operation zone."