110 people detained after the Newroz celebration in Amed
After the Newroz Festival in Amed, in which hundreds of thousands of people took part on March 21, the Turkish police arrested 110 participants. Among the affected are also children.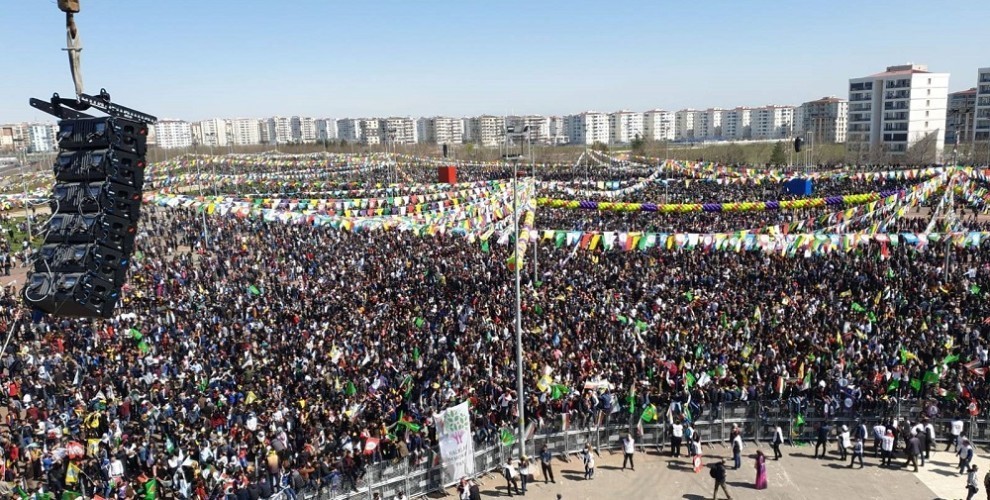 In the North Kurdistan metropolis of Amed (Diyarbakir), this year's Newroz celebration took place last Thursday under the slogan "We will definitely win and break the isolation".
The celebrations have brought hundreds of thousands of people together in Amed, who expressed solidarity with the ongoing hunger strikes by the DTK Co-chair, thousands of prisoners in Turkey and North Kurdistan and dozens of activists in Kurdistan, Europe and beyond.
The Newroz bonfire in the celebration grounds was lit by the family of Zülküf Gezen, who carried out a sacrifice action to protest the isolation imposed upon Ocalan.
Hundreds of thousands of people chanted "Leyla Guven is our honor", "Biji Berxwedana Zindana" and "Zülküf Gezen is immortal" as the bonfire was being lit.
It came out that 110 participants have been arrested by the police following the celebrations. According to reports, the detainees, who reportedly include minors, are held in the police department.