TJA: Demands of the prisoners must be met before it's too late
TJA called for support for the hunger strike in prisons and raised concerns over the fact that rights violations in prisons have reached torture levels.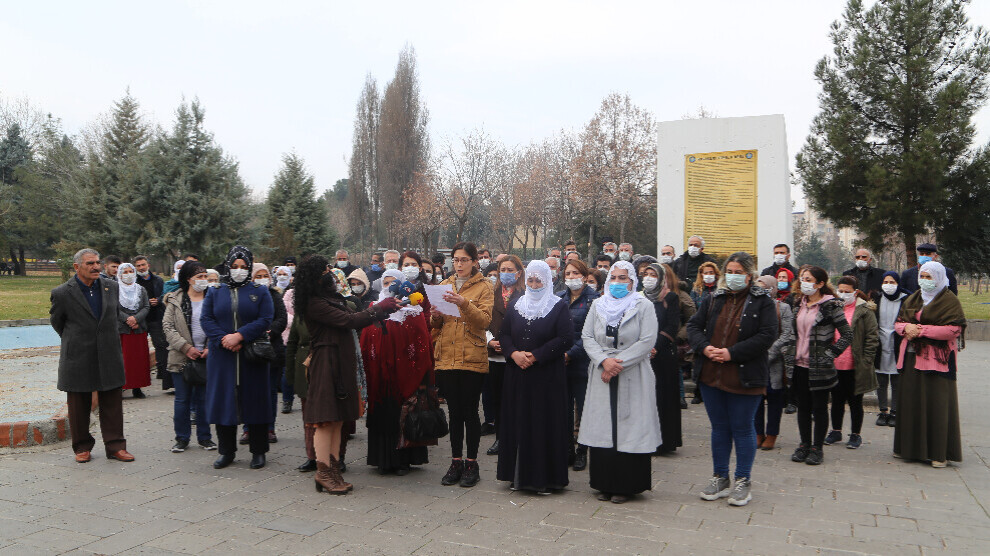 Activists of the Free Women's Movement (Tevgera Jinên Azad-TJA) made a statement at the Koşuyolu Park in Amed's (Diyarbakir) Bağlar district regarding the hunger strike launched by political prisoners against the isolation of Kurdish People's Leader Abdullah Öcalan and the increasing inhumane practices in prisons. Peoples' Democratic Party (HDP) Amed deputies Semra Güzel and Remziye Tosun, Democratic Regions Party (DBP), Association for Solidarity with Families Who Lost Their Relatives in the Cradle of Civilizations (MEBYA-DER), Arrested and Convicted Families Association (TUHAYDER) administrators and a large number of citizens attended.
TJA activist Beritan Önen said, "We are here to be the voice of the prison insurgents who resist with their bodies in search of law in this century, when the law is trampled, no law is enforced, and people are crucified by the hand of the law."
Pointing out that violations of rights in prisons have reached torture levels, Önen continued: "Putting prisoners in solitary cells, assault and torture by prison staff, lack of food and hygiene, arbitrary application of disciplinary punishments, lack of accommodation in crowded wards, the treatment processes of sick prisoners, imposition of handcuffed examinations and non-delivery of medicines, disregarding the needs of children who have to stay with their mothers, humiliating treatment and regular denial of visitation rights, strip search, surveillance cameras in intimate areas, fencing of ventilation gaps are reported in media outlets almost every day."
Önen appealed to the government and all judicial authorities, saying: "Before it is too late, apply your laws, meet the demands of the prisoners. Every social reaction is terrorized by the government, society is made monotype and unable to breathe. Every injustice, every unlawfulness in the face of which you remain silent spreads to the other fields and destroys every segment that criticizes the system. For this reason, we invite all opposition groups, democratic mass organizations to stand against these violations of rights and to be the voice of prisons."