Pressure on LC Waikiki warehouse workers to leave the union
Limter-İş member Mehmet Salih Yılmaz, one of the LC Waikiki warehouse workers in the resistance who was unlawfully dismissed, said: "They are forcing workers in the warehouse to resign from the union."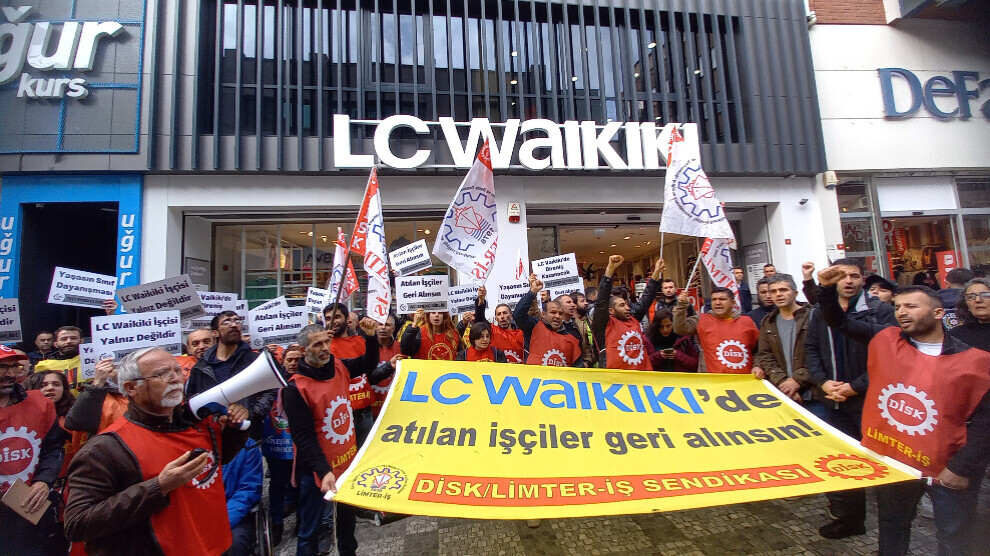 Workers employed by subcontractor company Kluh in the Istanbul Esenyurt LC Waikiki warehouse who were fired through Code 46 for being members of the Limter-İş Union affiliated to DİSK, have been protesting for 16 days. The workers got no answer to their reemployment demands and are urging the public to boycott LC Waikiki stores. The workers are determined to resist until they get their rights.
Mehmet Salih Yılmaz, one of the dismissed workers, spoke to ANF about the protest.
Forced to do all kinds of work
Yılmaz, who has been working at the LC Waikiki warehouse in Esenyurt for 5 years, pointed out that when he first started, he thought that they would work within LC Waikiki, only to find themselves working for the subcontractor company Kluh. For 5 years, Yılmaz said, they have been working under very bad conditions. He added that although he worked in the warehouse as a janitor, he had to do a lot of other things. "We were hired as janitors, but we even had to clear the road when it snowed. Although it was not our job, we had to serve tea, place the cardboard on the floor. During the pandemic, they made us make masks and give medicine to people with Covid-19. Since there was a lack of personnel, they had one person do the work of 5 people."
Yılmaz said that when they refused to do the extra jobs, the company threatened to fire them. "Despite all this workload, we were also getting a minimum wage. While bonuses were given to those working within LC Waikiki own structure, we were not getting any of our rights. We became members of the Limter-İş Union in order to improve the conditions, then we gathered and demanded both our wages to be increased and the abuses to end. They promised to review our working conditions and asked us to elect 6 representatives. I was one of the six people chosen. When they learned that we were unionized, they asked us to elect representatives, but after we did so, we were the first to be dismissed, appealing to Code 46."
'LC Waikiki is responsible for this harassment'
Yılmaz said that 8 more unionized workers were dismissed under Code 46 and added that after they started to resist, the pressure on those who continued to work in the warehouse increased even more. "They force our friends who are unionized to resign from the union. They forbade the workers from meeting with us after work. They put a security guard just where our resistance tent is. LC Waikiki managers do this themselves. It is not the subcontractors. They are constantly threatening the other workers with dismissal, to prevent them from supporting our resistance."
Code 46 used to repress workers
The dismissed workers were not given any compensation because they were fired using Code 46. They have difficulty finding another job and they can not receive unemployment benefits. Yılmaz said that he had one child and that he was the only breadwinner of the family. Yılmaz underlined that the family has no income and that they have rent and debts to pay.
The resistance at the Esenyurt warehouse has been going on for 16 days, yet, said Yılmaz, no manager has entered into a dialogue with them. "We have been calling for dialogue for two weeks, but we couldn't find any interlocutor."
'There is no room for fear, united we will win'
Yılmaz called on people to boycott the LC Waikiki stores, and sent a message to his comrades working in the warehouse: "You should not be afraid. There is no room for fear, united we will win."