No place for disabled boy in Van courthouse!
The only prisoner left out of the 48 people arrested in Özalp in 2020 is City Council member Nevzat Öner. The judge, after seeing Öner's disabled son Diyar at the hearing, made very racist comments.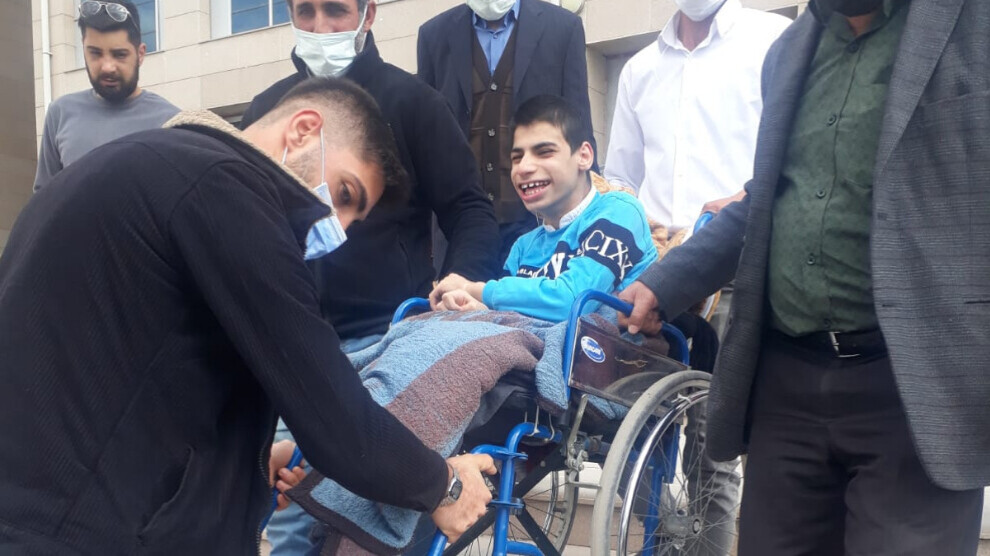 48 people, including HDP municipal council members, were detained in Özalp, province of Van, after an armed attack on a municipal vehicle near the neighbourhood of Memedalan. 32 people were released in the hearings. 8 people had already been released by prosecutor's office, while 7 more people were released in the last hearing held at the Van 2nd High Criminal Court on 23 September 2021. However, it was decided to continue the detention of HDP City Council member Nevzat Öner.
HDP City Council member Nevzat Öner's wife, Adalet, is also on trial pending trial in the same file. Adalet Öner has to report to the police station twice a week. Alone, she looks after her 3 children. 15-year-old Diyar Öner has a 99 percent disability since he was born. Diyar Öner came to the court to see his father on Friday and had to be carried into the hall as there is no passage for people with disabilities. As he tried to attract his father's attention with gestures, Diyar Öner was frequently warned by the court committee.
Young boy insulted by presiding judge
Adalet Öner said that her son Diyar managed to enter the court despite the many architectonic barriers. Öner noted that they eventually had to carry him into the hearing hall because there is no staircase built for people with disabilities in the Court in Van. "At the last hearing, I told him about the difficulties we experienced as a family and explained the situation of Diyar and said that the court committee should consider this, but the judge reacted to me by saying, 'Am I a doctor?'"
Saying that she has two more children, aged 11 and 7, Öner added: "Our trial continues at the Van 2nd High Criminal Court. Before, I had to report to the police once every 15 days, but now I have to do it twice a week. We are being judged on an issue that we have no interest in, and our grievances are enormous. My husband is the only defendant left in prison. He is innocent and I believe this will be proved in the next hearing. My husband is just a politician."