Maside Ocak: 700 weeks have passed, my hope has not faded
Maside Ocak was taken into custody and her mother Emine, 82, was beaten by police during the attack on the Saturday Mothers.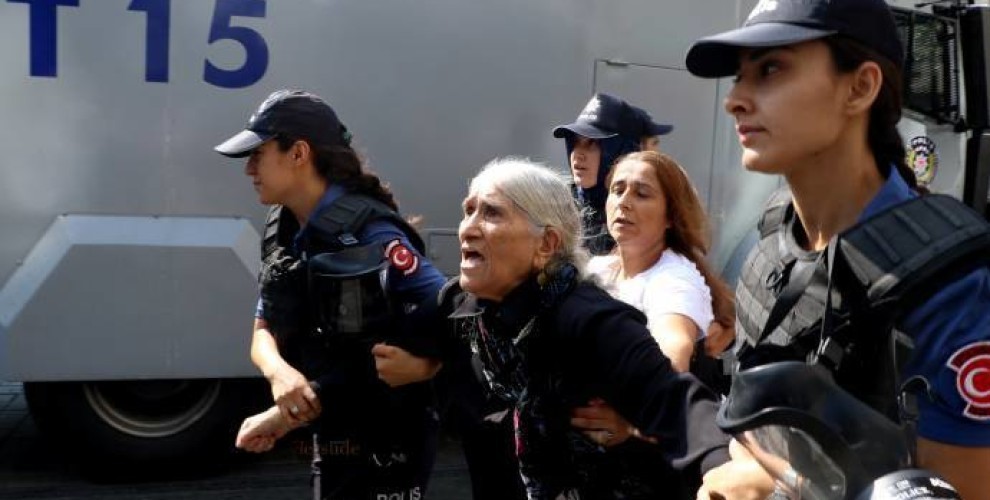 Among the scores of Saturday Mothers and friends taken into custody on Saturday, for the 700th gathering to demand justice and truth for the disappeared people, were Maside Ocak and her mother, Emine.
Emine Ocak is one of the two mothers who started the Saturday Mothers action, back in 1995.
Her son, Hasan, disappeared in Istanbul after being taken into custody by police.
Hasan' sister, Maside Ocak, who was released later on Saturday night, shared what she has lived in her social media account.
She writes:
"I know you all were very worried.
I do not know what to write about today.
The summary of the day for me:
My mother at the age of 82 was being pushed and confronted by police shields, her arms in bruises,
We were dragged to the detention vehicle, I saw the brutal beating of my nephew Adilcan but I couldn't leave my mother and run to him,
They were bending the arm of Gamze Elvan to break it,
Plain clothes police ordered that the old woman would not be put into the detention vehicle,
My mom said: "You took my children, take me too", and she was expelled from the vehicle she tried to get on,
We were kept in the vehicle in plastic handcuffs for hours...
Hayri Tunç today has caught on camera the same picture of my mother drifted away from Galatasaray Square that Ahmet Şık had taken in 1997. Nothing changed from then to now. We were detained in 1997, two generations of us, today it is three generation to be taken into custody.
When I came home and turned on the computer, I saw beautiful people fend off the violence inflicted on my dear brother Arat, and people keep saying 'We are here, mother, you are not alone' to the Saturday Mothers for hours after we were detained.
I have one word to say;
700 weeks passed, hope has not faded ... "