Lawyers staged Vigil for Justice
Lawyers gathered at the opening of the judicial year to continue Vigil for their detained colleagues in front of Caglayan Istanbul Courthouse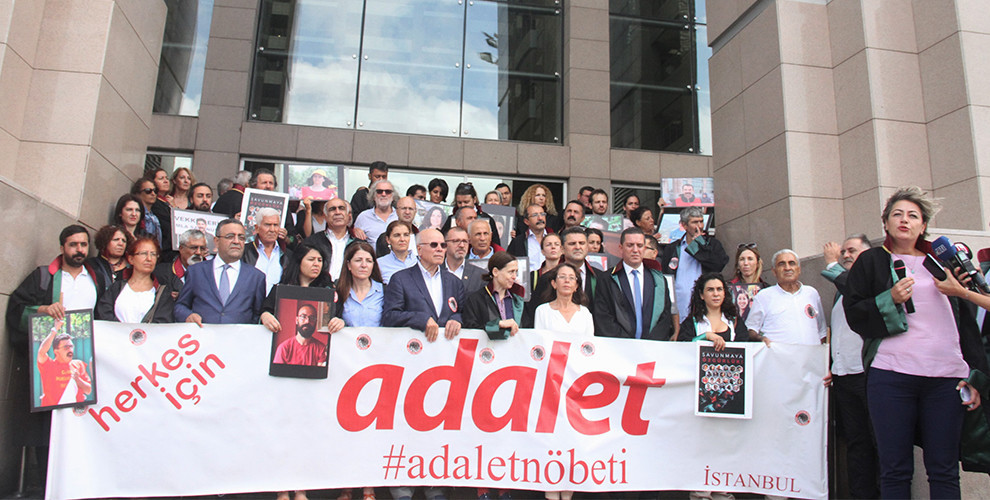 Lawyers have held the 69th Justice Vigil to protest against the detention of their colleagues. The vigil is taking place every Thursday.
HDP deputies Züleyha Gülüm, Oya Aslan, CHP deputies Sezgin Tanrıkulu, CHP Istanbul Provincial Vice-President Saniye Yurdakul, SODEV Honorary President Ercan Karakaş also joined the Vigil together with a number of law associations. Hatay, Manisa and Ankara Baro also gave support to the action. 
The photographs of the detained CHD and HHB lawyers were shown at the Vigil and a banner writing "Justice for All" was opened. 
The first to speak was Hatay Bar Association President Ekrem Dönmez.
"If there is a vigil demanding justice for lawyers in any country, it means there is a problem in that country", Dönmez said.
In Turkey, he added, lawyers are under investigation for carrying out their profession.
"Lawyers are trying to do their jobs risking their life. - he said - Lawyers pay a heavy prize to defend their cases and clients". 
Dönmez reminded that the first hearing of the ÇHD and HHB lawyers will be held on Monday, 10 September at Bakırköy Courthouse. An action will be staged in front of the Courthouse to mark the first hearing and will continue for five days. 
Manisa Barosu General Secretary, Seçil Ege Dede said to be honoured to be part of this struggle.
President of Ankara Bar Association, Erinç Sağkan, emphasized that the justice vigils are a clear indication of a system of justice that is becoming increasingly sick.