Justice Vigil launched in Istanbul after Amed, Van and Izmir
After Amed, Van, and Izmir, relatives of prisoners started a Justice Vigil in Istanbul.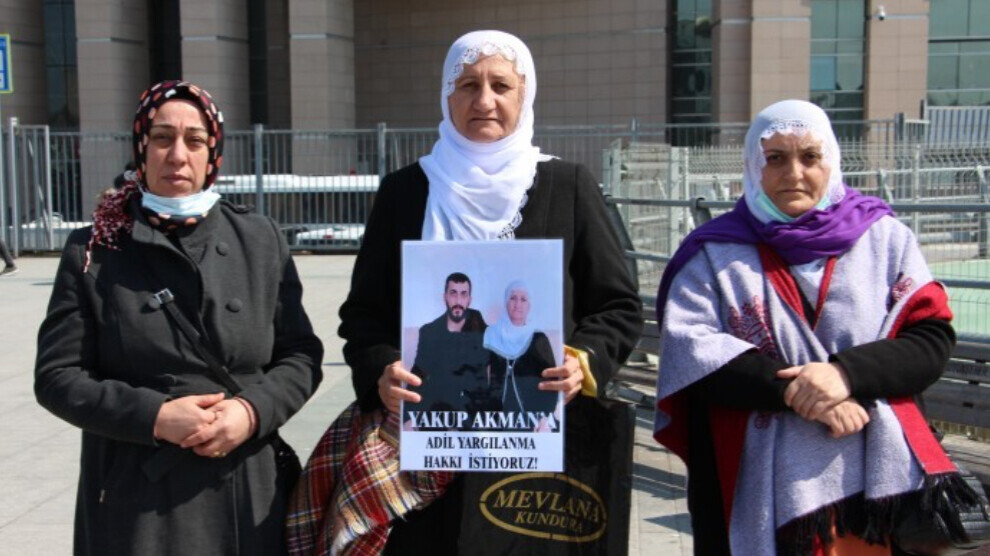 Families have been holding a Justice Vigil in Amed, Van, and İzmir for months, demanding the immediate release of the sick and prisoners whose paroles are revocated.
In Istanbul, a vigil was launched for the same reason on Thursday. Relatives of the prisoners who gathered in front of the Istanbul Courthouse in Çağlayan declared that they will hold a vigil in front of the Istanbul Courthouse every Thursday.
The first vigil was attended by Cemile Karakaş, mother of Xemgin Karakaş, who is imprisoned in a single-person cell at Afyon T-Type Prison, Gülsüm Dağ, sister of Ömer Dağ who is held in Balıkesir F-Type Prison, and Fince Akman, mother of Yakup Akman, who is held in Silivri No. 3 F-Type Closed Prison. Attr. Jiyan Çağırtekin, a member of the Association of Lawyers for Freedom (ÖHD), joined the families.
Speaking here, Fince Akman said, "Our children have been sentenced to life imprisonment. That is why we will be here every Thursday."
Akman further made the following remarks:
"They leave our children starving. They do not turn on the heater for our children while we can hardly bear the cold indoors in this weather. In prisons, they inflict psychological violence on our children. This injustice is just unacceptable. In the same way that they make our world a prison, we will make the world prison for them. We are not abandoning our cause; we are here for all of the prisoners. We will maintain our vigil until our prisoners are released."
Referring to the situation of Kurdish politician Aysel Tuğluk, who is seriously ill in Kandıra F Type Prison, Akman said, "Hundreds of prisoners are sick and cannot survive in prison. Where is justice?  Why don't you do what needs to be done? What is the purpose of state? Even if we have a drop of blood left in our bodies, we will continue to stand by the prisoners and our cause."