Swedish Parliament discusses Iran's crackdown on the Kurds and civil society
As the wave of repression on the East Kurdistan civil society rolls on, the number of arrested people has risen to 95. The Kurdish parliamentarian in the Swedish parliament, Amineh Kakabaveh, is outraged by the ignorance in Europe.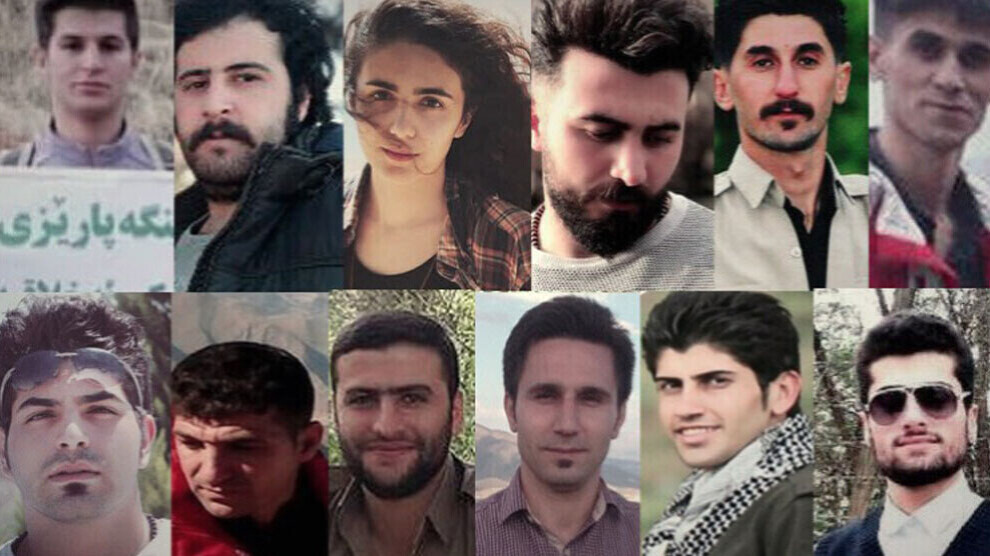 For three weeks now, a new wave of repression has been rolling over civil society in East Kurdistan. Hengaw human rights organization reported on Monday that at least 95 opposition members have been arrested by the Iranian Revolutionary Guard since then. Only six people have been released on bail. Those affected include political and civil rights activists, students, media workers, environmentalists and teachers. According to their relatives and legal advisors, they were all arrested without a court order and transferred to prisons and detention centers under the control of the Revolutionary Guard.
The Tehran regime's treatment of civil society and movements that advocate for the rights and causes of ethnic, religious, and sexual minorities remains a cause for concern. Both they and the groups they advocate for face a brutal repressive machinery because they are considered a threat to the country's national security and religious unity.
Amineh Kakabaveh: For the regime, all are terrorists
Amineh Kakabaveh, a Rojhilat-born member of the Swedish Parliament, has gone a step further, saying the leadership in Iran equates all dissenters with "terrorists." The politician, who was born in Torjan near Saqiz, raised the issue of Tehran's repressive strike against Kurdish civil society in parliament last week and criticized the Swedish government for its "lenient approach" to Iran.
Socialist MP Amineh Kakabaveh submitted a written parliamentary question following the session the day before which also attended by Swedish Foreign Minister Ann Linde, where developments in Iran were also discussed. She asked inister Linde to take initiative for the release of the political prisoners arrested by the Iranian regime in Rojhilat.
During the discussion of Kakabaveh's earlier motion in Parliament last week, there were arguments between Kakabaveh and Ann Linde. While Linde argued that they constantly raise the issue of arrests and violations of rights in Iran, Kakabaveh called for the Swedish Government to take a more consistent and decisive position for the prisoners' release.
In her controversial motion, Kakabaveh pointed to a declaration in which hundreds of prominent individuals including ministers, MPs, members of the United Nations Human Rights Committee and 160 scientists some of whom received the Nobel Prize called for the release of Swedish citizen scientist Dr. Ahmet Riza Celali.
The same motion also discussed the case of Arab dissident and Swedish citizen Habib Chaaban whom Turkey deported to Iran. The Iranian regime accuses Chaab of being one of the leaders of the Ahwaz Arab Freedom Movement (ASMLA). Kakabaveh said that Celali and Chaab were tortured during their interrogation and that both opponents were accused of treason and espionage. She also called attention to the illegal activities of the Iranian regime in Europe and abroad.
THE GOVERNMENT SHOULD MAKE A STATEMENT
Kakabaveh demanded that Sweden take action with the European Union to ensure the release of Celali and Chabb and to end the oppression of Iranian refugees living abroad. She asked the Swedish Government to announce that diplomatic and trade relations between the two countries would be affected if Celali and Chaab were executed, just as the Belgian Government stated.
LINDE'S EFFORTS
In her speech to the Parliament, Linde claimed that Kakabaveh brought up two serious diplomatic cases and that the Swedish government considers Celali's case as very serious and she continues to deal with the cases without interruption. Stating that Sweden dealt with the issue with Iranian officials in order to annul the death penalty given to Celali, Linde revealed Sweden's approach to death penalties saying, "Death penalty is an inhuman, cruel and nonrecoverable punishment that has no place in the modern legal order."
Linde said that the case of Habib Chaabi is also quite alarming and she discussed the kidnapping of Chabbi with Turkey's and Iran's ambassadors in Stockholm. She added that she brought it to the agenda in her talks with Iranian Foreign Minister Javad Zarif.
Remarking that the Swedish government has clearly communicated its demands to Iran, Linde said, "We will never give up on our diplomatic efforts for Celali and Chabb."
CALL FOR ACTION BY SWEDEN
Speaking after Linde's remarks, Kakabaveh recalled that the European Parliament and Swedish MPs signed a declaration requesting the release of Celali and other political prisoners. "Does the Swedish Government stand behind this request of the European Parliament? France, Germany and Belgium gave ultimatums to the regime in Tehran, but Sweden did not. All this is happening when two Swedish citizens are about to face death penalty in Iranian prisons," said Kakabaveh as she criticized Sweden's attitude.
IRAN AND TURKEY WITHA SIMILAR AGENDA TARGETING PEOPLES
Interviewed by ANF, Kakabaveh said Iran and Turkey are committing state terrorism and do not respect the human rights. She added that they have similar political agendas targeting proletarians, workers and the Kurds.
Recalling that Iran labeled those who fight for women's rights, human rights and the protection of the environment "terrorists", Kakabeveh said, "The regime arrested 70 Kurds and many Baluchis. These people are not members or supporters of any political party. They want change. They want people living in Kurdistan to have better conditions. They demand that all children be given the right to education in their mother tongue. Just like Turkey, Iran accuses these people of terrorism just because they seek their rights."
Kakabeveh noted that Iran and Turkey collaborated against the Kurds and human rights defenders, saying; "There are dictatorships in both countries. They do not respect human and women's rights. Both countries have similar agendas targeting their people. They accuse women, students and environmentalists who are seeking their rights of being terrorists. In their view, those who struggle to seek their rights are terrorists."
REGIME'S REPRESENTATIVES VISIT EUROPE
Kakabaveh noted that the regime's representatives traveled around Europe while Iran was arresting and torturing dissidents. "They are giving speeches in the United Nations and the EU. Ann Linde shakes their bloody hands. She listens and hugs them," said Kakabaveh criticizing Sweden's Iran policy.
SWEDEN HAS NO CONSISTENT ATTITUDE
Kakabaveh pointed out that Western states react harshly to human rights violations in Ukraine and Belarus but they ignore the crimes against humanity in Iran. She added; "They are acting cowardly. Currently, two Swedish citizens are arrested in Iran. Yet, Sweden is pretty quiet. For 40 years, it has not taken a consistent stance against the regime nor will it take in future."
RELATED NEWS: