IHD co-chair Eren Keskin visits Şenyaşar family
IHD co-chair Eren Keskin visited the Şenyaşar family. She gave Emine Şenyaşar the scarf and carnation that Saturday Mothers had sent her.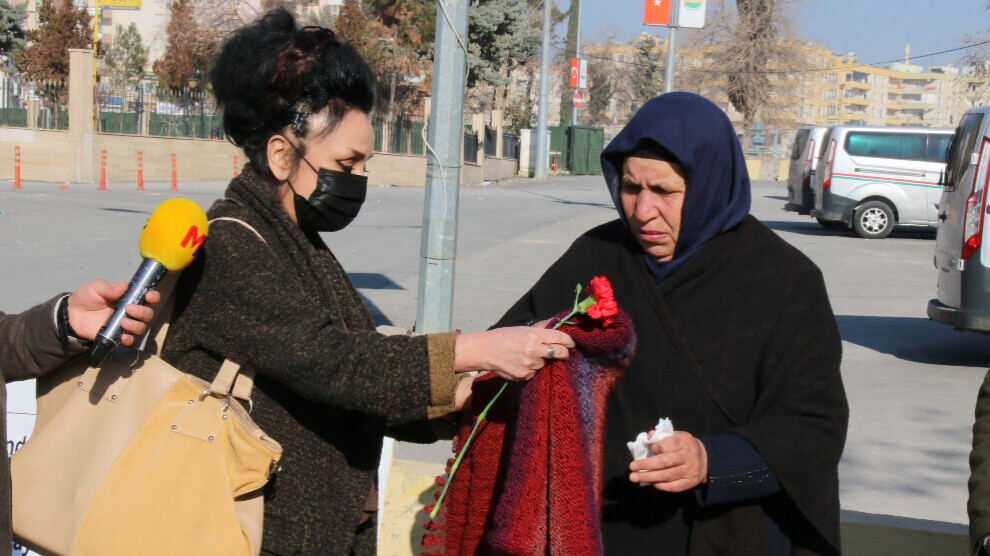 The Justice Vigil started on 9 March in front of the Urfa Courthouse, by Emine Şenyaşar, whose husband and two sons were killed as a result of the attack by AKP Urfa MP İbrahim Halil Yıldız's bodyguards and relatives, in Suruç (Urfa) on 14 June 2018, has been going on 335 days.
Emine Şenyaşar and her son Ferit, who survived the attacks, were today visited by Eren Keskin, co-chair of the Human Rights Association (İHD). Keskin said, "The pain experienced by the Şenyaşar family is really heavy, like the sum of all the pain experienced in Kurdistan, and they continue to fight for justice."
Keskin said she visited the family on behalf of the Saturday Mothers and added: "As we all know, the Saturday Mothers are people who have lost their children and relatives, disappeared while in police or state forces custody. Unfortunately, the fate of these disappeared people has not been disclosed in many cases. Just like Emine sister, the Mothers have suffered great deprivation. And unfortunately, they continue to live in pain. Both Gulistan Doku's mother and Emine Şenyaşar continue to shout their pain and demands on the street, regardless of the cold and rain. The Saturday Mothers also knit scarves so that they do not get cold."
Keskin then gave Emine Şenyaşar the scarf and carnation sent to her by the Saturday Mothers.