DEDAŞ workers: The strike goes on!
DEDAŞ workers said that they went on strike because they were unfairly dismissed and were paid wages below the hunger limit. They emphasized that they would continue their struggle.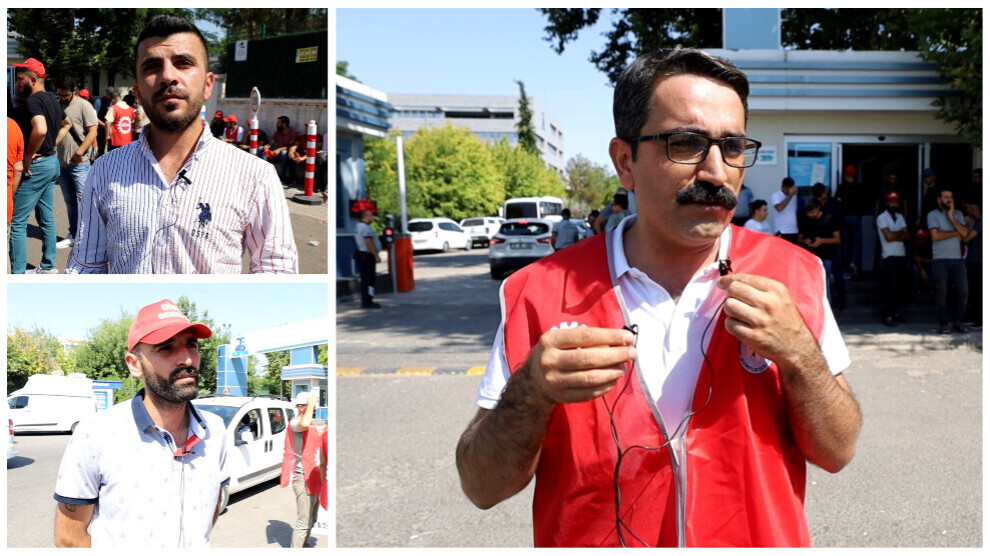 The war policies implemented by the Turkish state continue to deepen the economic crisis, causing employers to underpay or lay off workers. Dicle Electricity Distribution Corporation (DEDAS) workers went on strike in 6 cities demanding a raise in their wages below the hunger limit. The workers on strike in Amed stressed that they will continue their protest until their rights are achieved.
The workers who have been in solidarity with their dismissed colleagues and have been protesting for days in front of the DEDAŞ campus have also been fired from their jobs. Becet Barut, co-chair of DISK Genel Iş Branch No. 2, spoke to ANF about the resistance.
Call on the government to address the demands of the workers
Becet Barut said that DEDAŞ workers, who could not get their rights, said: "Workers have been demanding their union and personal rights for years. They live below the poverty line and so they went on strike. We are struggling to survive in the economic crisis created by the state. They cannot ignore the demands of our workers. Our call to the government is to see and address these injustices as soon as possible. We promise that we will stand by our friends' resistance and that we will not leave here until they succeed in their actions."
Fired for supporting the strike
Azad Kaya, one of the resistance fighters, said that they were unlawfully dismissed and added: "We were fired because we called the strike. The wish of those on strike was to be unionized and not be crushed by the economic crisis. We will continue our action until we achieve this. They fired us based on Article 49. However, our aim was to demand our right to be unionized. Although our job was so difficult, we were paid low salaries. We have workers who fix all the electrical faults and lack of electricity in the region. While doing these, there are those of us who die or become crippled as a result of electric shock. We will not accept this lawlessness. Our struggle will continue."
The company receives support from the government
Mazlum Barış, who joined the strike from Şırnak, emphasized that they will continue their action and will not give up until they get their rights. He said: "My job was terminated on 21 July. We were fired without good reason. We are here today with our friends to exercise our legal right to strike. We will continue to struggle. It is obvious that the company fired many of our colleagues with support from the government. But we will not give up, we will continue our struggle. Because workers are valuable. It is the worker who makes everything beautiful, without them nothing happens. There will be no production. There is no society. We hope that they will turn away from this mistake and give us our rights."