Journalists call for support for jailed colleagues before the hearing on April 2
Dicle Fırat Journalists Association (DFG) and Mesopotamia Women Journalists' Platform (MKGP) called for attendance in the first hearing of a trial against 5 journalists, 4 of whom are jailed, to be held on April 2 in Van.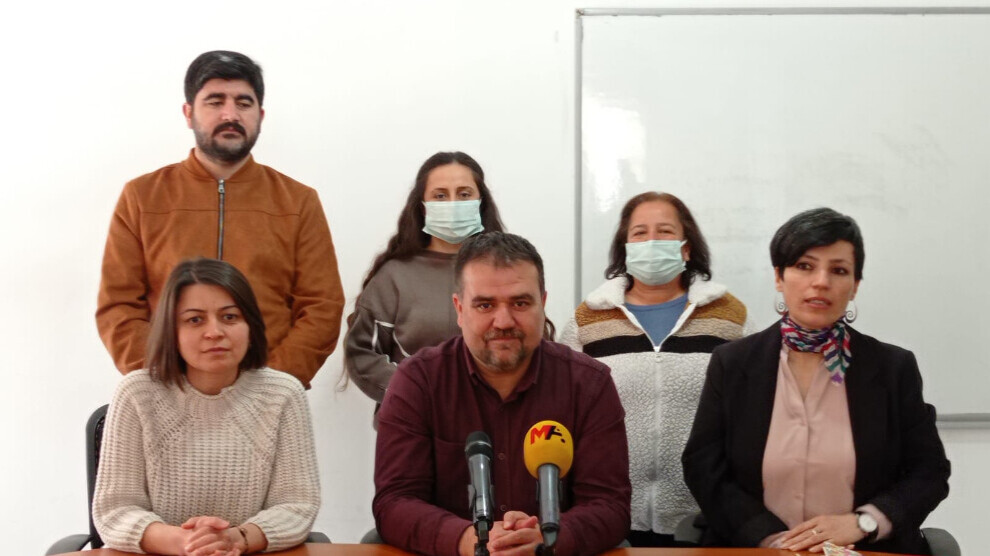 Mesopotamia Agency (MA) reporters Adnan Bilen and Cemil Uğur, Jinnews reporter Şehriban Abi and journalist Nazan Sala who were imprisoned in Van on October 9, 2020 will appear before the judge on April 2 for the first time.
The four journalists were targeted after they had revealed the case of Osman Şiban who was detained and severely tortured by soldiers and Servet Turgut who was thrown from a helicopter and died.
Before the hearing to be held at Van 5th High Criminal Court, Dicle Fırat Journalists Association (DFG) and Mesopotamia Women Journalists' Platform (MKGP) made a statement in Amed (Diyarbakir).
Speaking at the press conference, which was attended by journalists, DFG co-chair Serdar Altan recalled the arrest of their colleagues for exposing the case of Şiban and Turgut who were thrown from helicopter and subjected to torture. He continued, "If our friends had not reported these incidents, the public would not have been informed. Despite everything, they conveyed the facts to the public. Afterwards, they were subjected to obstacles during the follow-up of the news, and finally they were imprisoned."
'THEY SHOULD BE RELEASED IMMEDIATELY'
Remarking that the journalists were arrested due to their journalistic activities, Altan continued, "Our friends have been behind bars for 6 months. We, as press organizations, expect solidarity. We call out to the public: Our friends have been arrested for their journalistic activities. Journalism is not a crime; it is a sacred duty. We defend the freedom of information. Our friends are not criminals, they are journalists. Journalists are meant to cover news; they should not be put in prison. Our friends should be released as soon as possible."
'WE WILL REPORT THE FACTS'
Speaking after, MKGP spokesperson Ayşe Güney said the following, "This is a case where journalism stands trial, it is a case where our right to report is tried."
Referring to the violations experienced by Şehriban Abi and Nazan Sala after their arrest, Güney said, "The pressure on female journalists is increasing day by day. Our friends were subjected to maltreatment after they were arrested. They were put in the wards where male prisoners stayed. Their wards are unhygienic and even blankets are not provided when it is cold. It is a punishment within a punishment. We consider these practices as a punishment given to Kurdish female journalists in their person. We will respond to these policies by continuing to publicize the truth. It is our promise that we will report facts."
Güney called on all journalists to observe the trial that to be held on April 2.