Facebook silenced Syrian Kurdish fighters in 2018
ProPublica reported that Turkey demanded the social media giant Facebook to block posts from the People's Protection Units (YPG).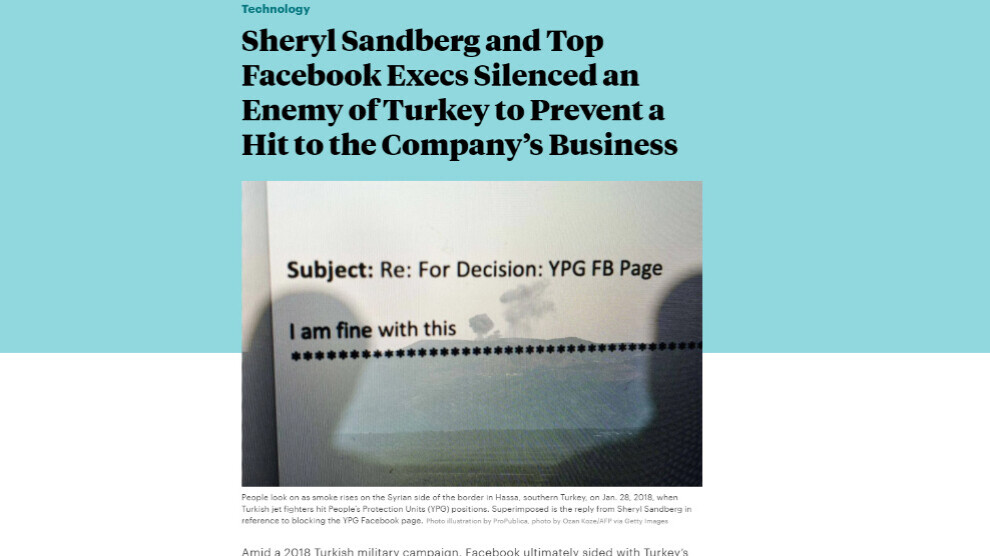 Facebook confirmed to ProPublica that it made the decision to restrict the page in Turkey following a legal order from the Turkish government - and after it became clear that failing to do so would have led to its services in the country being completely shut down. The company said it had been blocked before in Turkey, including a half-dozen times in 2016, ProPublica said.
"We received a valid court order from the authorities in Turkey requiring us to restrict access to certain content. Following careful review, we have complied with the order," Facebook said.
Facebook's top executive Sheryl Sandberg wrote "I am fine with this".
In a statement the YPG told ProPublica that the censorship by Facebook and other social media platforms "is on an extreme level."
"YPG uses social media to promote its struggle against jihadists and other extremists who attacked and are attacking Syrian Kurdistan and northern Syria. Those platform[s] have a crucial role in building a public presence and easily reaching communities across the world. However, we have faced many challenges on social media during these years", the YPG added.
Facebook doesn't reveal to users that the YPG page is explicitly banned. When ProPublica tried to access YPG's Facebook page using a Turkish VPN — to simulate browsing the internet from inside the country — a notice read: "The link may be broken, or the page may have been removed." The page is still available on Facebook to people who view the site through U.S. internet providers.