Campaign for jailed journalist Demirci in Germany
Adil Demirci, a German citizen who writes for ETHA News Agency and has been detained in Turkey three months ago.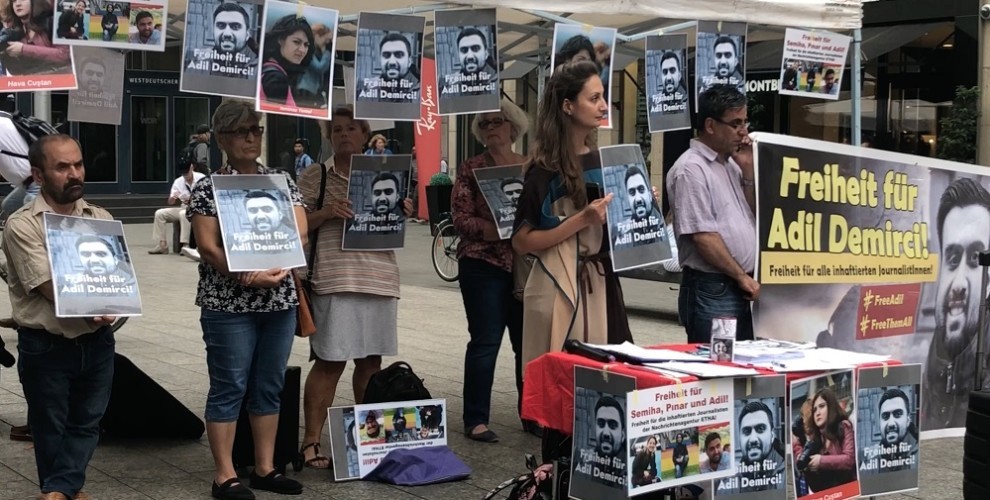 Adil Demirci, a German citizen journalist with Etkin Haber Agency (ETHA) in Turkey who was arrested in Istanbul on 17 April, has been imprisoned in Silivri Prison for 3 months.
Demirci, a sociologist and journalist, is on trial accused on "being a member of the organization" and "making propaganda for the organization" for his participation to a funeral in 2015.
Faced with many pressures and bans since the day it was founded, ETHA Agency has seen many of its journalists and correspondents arrested.
Friends of Demirci, who lives in Cologne, Germany, have now launched a campaign for Adil to highlight his case.
The group is organising campaigns, sending postcards, as well as a monthly meeting every Wednesday in front of the historic Dom Cathedral in Cologne.
The campaign also aims at highlighting and exposing the situation of dozens of journalists who are in Turkish prisons.
Eyüp Karatekin, father of Adil Demirci, said the group will continue their actions and campaign for all journalists in Turkish jails.
Karatekin said that Adil had gone many times to Turkey, but was arrested in his most recent journey while accompanying his mother.
Demirci's father said that his son's participation to a funeral had never been used against him. "He attended this funeral 5 years ago and they never questioned him about it. This detention happened when Turkey was arresting journalists all over the country to prevent free press from telling what is going on in the country".
Karatekin added: "Adil's 'guilt' is writing news, investigating and researching truths. The Turkish state is disturbed because he is a fair Kurdish journalist. The fact that he has German citizenship is used by Erdogan as a bargaining chip".
Adil Demirci is one of the 192 journalists currently in prison in Turkey.