Özgür Gündem trial postponed
Trial against Eren Keskin and 8 other people in Özgür Gündem case has been adjourned.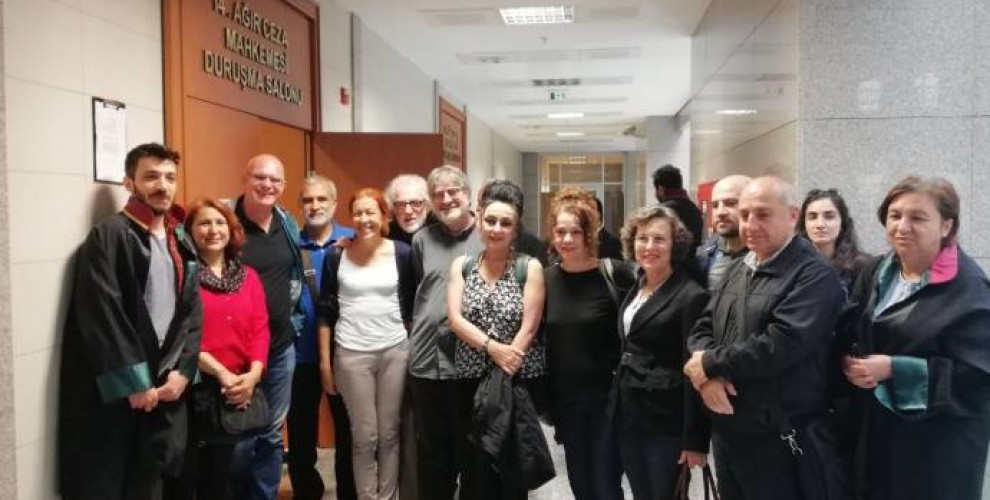 The trial against 9 writers and employees of Özgür Gündem newspaper continued on Monday at the Istanbul Heavy Penal Court No. 14.
On trial are: Reyhan Çapan, Eren Keskin, Ayşe Batumlu, Nuray Özdoğan, Ayşe Berktay, Reyhan Hacıoğlu, Celalettin Can, Hüseyin Aykol and Filiz Koçali.
Many attended the hearing, including Özcan Kılıç, lawyer for the paper, the Libertarian Lawyers' Platform Co-Spokesperson (ÖHP) Serhat Çakmak and many lawyers.
Peoples' Democratic Party (HDP) Group President Filiz Kerestecioğlu, Reporters Without Borders (RSF) representative in Turkey Erol Önderoğlu, civil society organizations, Human Rights Association IHD and Human Rights Foundation of Turkey (TIHV) representatives, DISK Press Union President Faruk Eren and many journalists also were at the hearing.
Lawyer Özcan Kılıç said: "This trial has no legal justification". He demanded that the case be merged with the "Özgür Gündem Main Trial" at the Istanbul 23th High Criminal Court.
Keskin: Our defence will go on
Lawyer and editorialist Eren Keskin said: "I have been a human rights advocate for 30 years. For years I defended and continue to defend freedom of expression. I am now co-chairing the Human Rights Association. The newspaper Özgür Gündem has seen many of its employees killed and it has been closed. For that I accepted to put my name on it. I am being tried in another court and they are asking life sentence. Something unthinkable for me. I'm not going abroad. I specifically mention this. The laws need to change. Erdogan said yesterday that the EU process is continuing. If this is the case, then these laws must be changed".
Case postponed to 9 July
Taking into account that the lawyers demanded time to prepare their defense against the indictment, the court adjourned the trial to 9 July.
The court also decided to reject the request to merge this trial with the main "Özgür Gündem" trial.
Prison sentence demanded
Other defendants Faruk Eren, Ertuğrul Mavioğlu, Celal Başar, Ömer Ağın, İhsan Çaralan, Celalettin Can, Fehim Isik and Öncü Akgül have been accused of "propaganda for an illegal organization" for their campaign Vigil for the Board of Directors.
The prosecutor demanded that Hüseyin Aykol be sentenced to 13 years imprisonment for "making propaganda for an illegal organization in a continue way".
Celal Başlangıç, Öncü Akgül, Faruk Eren, Ertuğrul Mavioğlu, İhsan Çaralan, Fehim Isik, Celaleddin Can, Omer Ağın, Veysel Kemer, Dılşah Karakaya and Yüksel Oğuz were requested to be sentenced to up to 7 years and 6 months prison.
Mehmet Şirin Taşdemir, who is already in prison, was said to have no criminal responsibility.
The hearing has been postponed to 16 July.