5 journalists detained in Mardin in custody for 3 days
Journalists Ahmet Kanbal, Mehmet Şah Oruç, Rojda Aydın, Nurcan Yalçın and Halime Parlak were detained in Mardin while covering the protests for the municipalities seized by the AKP regime.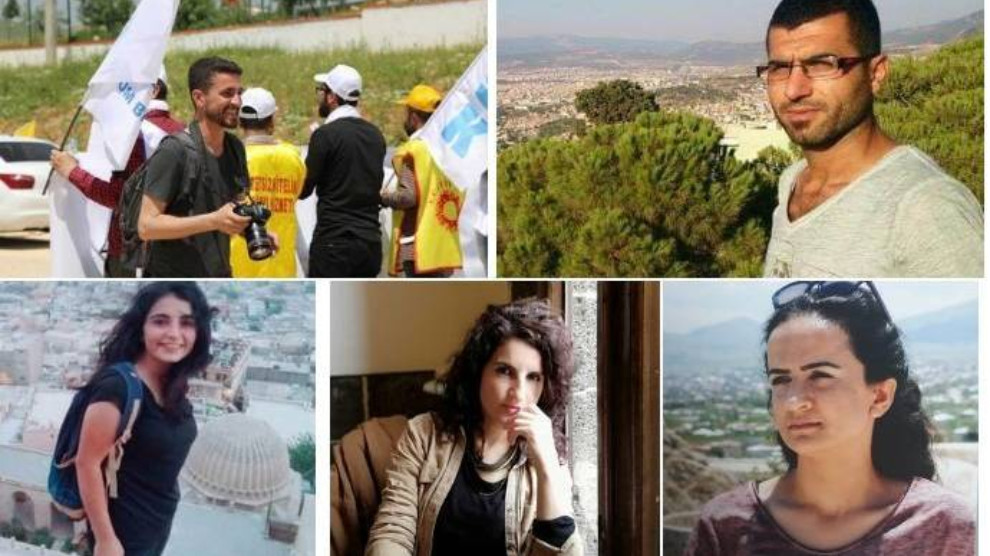 Upon a midnight order from Turkish Ministry of Interior, the metropolitan municipalities of Amed, Van and Mardin, run by the Peoples' Democratic Party (HDP), were seized by the AKP regime on August 19 through the replacement of the elected mayors with governors of the mentioned cities.
Following the suspension of the mayors, police forces laid a siege on the three municipalities and launched a crackdown against HDP members and people who took to the streets in protest at the unlawful seizure of their municipalities.
Masses gathered in front of the Mardin Metropolitan Municipality on August 20 to protest the replacement of their elected mayor with a state-appointed trustee. The crowd, including HDP MPs and mayors, were attacked by hundreds of police as they chanted "Repression cannot intimidate us".
Mezopotamya News Agency (MA) correspondents Ahmet Kanbal and Mehmet Şah Oruç, Jinnews correspondent Rojda Aydın and journalists Nurcan Yalçın and Halime Parlak were taken into custody while covering the protest in Mardin.
The journalists, who were battered during detention and were subjected to strip searches under custody, have been held at the anti-terror branch of Istanbul Police Department for three days.
The detention period will end tomorrow for the 5 journalists who have not been through procedures at the police station yet.