190 journalists behind bars in Turkey
The Free Journalists Initiative released its monthly report in Amed.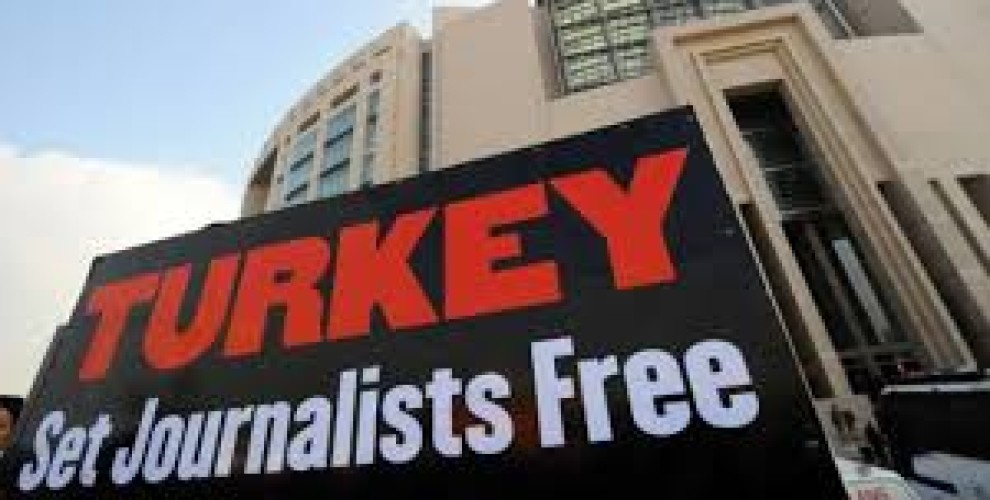 Özgür Gazeteciler İnisiyatifi (ÖGİ, Free Journalists Initiative) made a statement in Amed (Diyarbakır) today to mark World Press Freedom Day.
The statement made was made in the Human Rights Association (İHD) Amed Branch and was read in Kurdish by Elif Alkan and in Turkish by Hakki Boltan, on behalf of Free Journalists Initiative.
Underlining that at present the press is not free, the statement indicates that according to Freedom House's 2014 report, Turkey changed category: for the first time in the last 15 years, in fact, it passed from being in the group of 'partly free countries' to the 'not free countries'.
According to the Reporters Without Borders (RSF) report, Turkey last year ended in position 157 of 180 countries investigated and listed.
Turkey: a prison for journalists
The Free Journalists Initiative reminded that "March registered 170 journalists in prison, while this month that the number increased to 190". The statement continued: "Journalists have no longer any expectation from the government. Everyone agrees that the AKP government in Turkey not only has turned the country into the world's biggest prison, but it has converted itself into the guardian of this prison".
Call to journalists
The Free Journalists Initiative call on journalists, press and broadcasters and said: "Freedom of the press and free press have been reduced. Freedom of the press and free press tradition have been put in prison by this government. The 'guardian state' is standing at the door of this prison. Of course, our jailed friends will be free and will go back on the field.
What happened this month
The report released by the Free Journalists Initiative this month includes the following information:
- 190 journalists in prison
- 17 journalists taken into custody
- 33 journalists arrested
- Two journalists sued
- 50 journalists tried
- A total of 29 journalists were sentenced to 144 years, 2 months and 29 days. In addition, a fine of 3 thousand TL was given".