Shocking new evidence in British supplies to Turkish killer drones
Shocking new evidence reveals a six-year secret history of British supplied technology that has fuelled Turkey's dirty drone wars.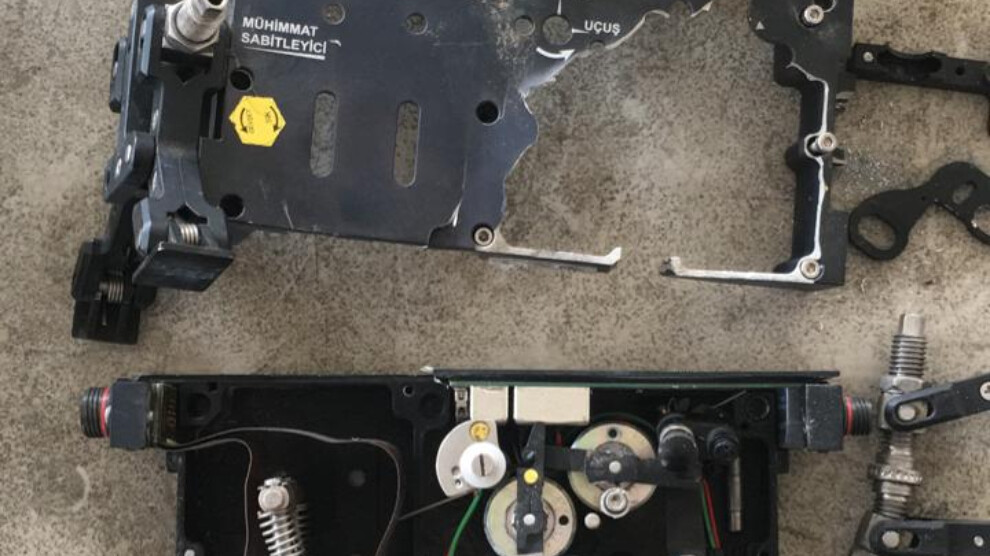 Campaigners in Britain have demanded an urgent government inquiry as new evidence has revealed a six-year secret history of British supplies to Turkish "killer drones."
Brighton Against the Arms Trade (BAAT) claimed yesterday that multinational arms manufacturer EDO MBM has continued the clandestine sale of the Hornet micro-munition bomb rack to Turkey, despite a string of public denials.
It revealed shocking new evidence that BAAT said proved that EDO MBM has continued to secretly supply Turkey with the equipment, components and technology for the last six years amid accusations of war crimes and genocide against Kurds.
Photographs showing the Hornet bomb rack on a Turkish drone shot down by Armenian soldiers in Nagorno-Karabakh have recently been circulated.
And yesterday BAAT revealed new information showing that some 18 export licences were approved by the government allowing the shipment of Hornet bomb racks and other related components to Turkey between 2014 and 2020.
BAAT demanded an urgent inquiry into what it described as a "secret trade" that has helped fuel Turkey's deadly drone war causing thousands of deaths as it wreaks havoc in countries across the Middle East.
The latest developments have raised serious questions over Britain's complicity in Turkish war crimes.
Kurds accused the government of culpability in a string of atrocities including the execution of three women, Zehra Berkel, Hebun Mele Xelil and Amina Waysi, in a targeted drone strike in Kobane last June.
"Did Britain supply the missile launcher that killed three revolutionary Kurdish women in Rojava?" asked a member of the Kurdish community on hearing the latest developments.
"We demand answers. The British state is responsible for war crimes against Kurds," she said.
Turkey has been allowed to conduct its dirty drone wars thanks to arms trader's willingness to circumvent arms embargoes, using its global operations to get around legislation in order to ply its deadly but lucrative trade.
Campaigners accused EDO MBM of being used by the US to bypass its strict laws on weapons sales, enabling it to continue the supply the world's most authoritarian regimes with the tools to oppress their own people.
It is alleged that parent company 3Harris circumvented US domestic arms controls by using its British subsidiary EDO MBM to take advantage of the country's more lenient weapons export rules and supply the technology to Turkey
A 2019 Guardian report claimed that EDO MBM had sold the Hornet bomb rack to Turkish company Baykar Makina. This technology was essential in enabling the Bayraktar TB2 to become Turkey's first armed drone, firing its first missile in 2015.
But President Recep Tayyip Erdogan's son-in-law Selcuk Bayraktar, the Chief Technical Officer of Baykar Makina, reacted angrily to the report, insisting in a Tweet that the company had developed a cheaper and more reliable bomb rack.
Campaigners have accused Mr Bayraktar of lying after his 2019 denial was hastily deleted following a November 2020 report by the Armenian National Council of America (ANCA) which contained the photographs which showed the Hornet bomb rack attached to a Turkish drone downed in the Nagorno-Karabakh conflict.
Turkey's TB2 Bayraktar drones helped tip the balance in Azerbaijan's favour in the six-week war in which thousands of people, including civilians, were killed and many buildings and homes were destroyed.
The photographs also showed fuel pumps supplied by the British-based company Andair Ltd, which announced on Monday that it was ceasing supply of the component after an 8,000-strong petition and a letter from the Armenian ambassador.
But crucially ANCA's report revealed for the first time the distinctive internal mechanism of the TB2 Bayraktar's missile launcher.
BAAT research showed that a 2014 patent drawing for the Hornet bomb rack appears to be identical to the internal design of the one found on the downed drone in the 2020 photographs.
This has fuelled the long-held belief by campaigners that the Hornet bomb rack has continued to be sold, despite government evasiveness and silence from EDO MBM on the issue, which has been the subject of parliamentary questions and endless speculation.
In 2020 the UK Department of International Trade (DIT) confirmed 18 Standard Individual Export Licences (SIELs) had been approved for EDO MBM to export Hornet bomb racks and related components and technology to Turkey between 2014 and 2020.
According to BAAT most of these went to a Turkish company known as Rokestan which was working closely with Baykar Makina between 2015 and 2016 to develop the capability of the Bayraktar TB2 to fire missiles.
But, EDO MBM's exports of its Hornet bomb/rack missile launcher to Turkey covers six years from 2014 to 2020, well beyond the development stage.

The British government has approved the export by EDO MBM of hundreds of missile and munitions launcher items of equipment, components and technology specifically designed for UAVs to Turkey for over six years, worth millions of pounds.
But BAAT called into question the unlikely claims by Turkey's primary UAV manufacturer that it does not use them. Now, it says, the evidence shows that it has been engaged in a secret six-year history of selling its technology of death with the knowledge and backing of the British government.
The arms trade is shrouded in secrecy and the law contains countless loopholes for the industry to exploit, making it harder to track sales and hold companies accountable in what is described by many as a "shadow world."
Since 2015 Britain granted some 80 unlimited-value open licenses which allow for an unlimited transfer of equipment over a pre-set period of time, usually 5 years.
But as Andrew Smith, national spokesman for the Campaign Against Arms Trade (CAAT) explains:  "The totals are never published, so we have no way of knowing what has gone over."
He insists that arms sales to Turkey should be scrapped citing the country's appalling human rights record and increasingly aggressive role internationally.
While he welcomes the efforts of Andair Ltd for ceasing the supply of its fuel pumps after being confronted with the evidence, he says that it is not good enough to leave the decision making to individual companies.
"It needs an intervention from the government. There must be an end to the political and military support that Downing Street has provided [to Turkey]," he said.
But the arms trade is a lucrative business for Britain. In October the government proudly boasted of its status as the world's second-largest arms trader, behind the US.
It cited some £11 billion worth of orders which were won in 2019. Since 2010 it has won £100bn worth of contracts including the sale of Typhoons to Saudi Arabia and missiles to Qatar.
While the government insisted its deadly trade meant the creation of high-quality jobs, Mr Smith accused Britain of "arming and supporting repression around the world."
It has gone to great lengths to protect its lethal trade, ignoring three of its own committees and dismissing evidence of war crimes while going to court to prevent it from being blocked from selling arms to Saudi Arabia as it bombs Yemen to the brink of the world's worst global famine in a century.
Since 2015 the UK has licensed over £1 billion worth of arms to Turkey making it one of the world's largest buyers of British-made weapons.
Despite a brief pause in November 2019 in response to public outrage at Turkey's illegal invasion of Rojava, arms sales resumed shortly in a return to business as usual.
Chris Coles of Drone Wars UK, a British-based NGO which campaigns for an international ban on the use of armed drones, warned that companies must ensure their components, which make up small parts of larger weapons systems are not facilitating human rights atrocities.
He called for greater openness and transparency about where drone technology is being exported to.
BAAT endorsed that view as it demanded "a full investigation of EDO MBM exports to Turkey and the immediate end of its supplies to the Bayraktar TB2 or any other Turkish weapons system."
But the signs are not encouraging. The British government remained evasive when presented with the evidence yesterday.
A government spokesman insisted it takes its export responsibilities seriously and assesses "all export licences in accordance with strict licensing criteria."
 "We will not issue any export licences where to do so would be inconsistent with these criteria," he said.
But it failed to respond adequately to specific questions posed regarding the use of Turkish drones in war crimes against the Kurdish people in northern Syria or breaching the UN arms embargo in Libya.
Instead it pointed to a speech in the House of Commons by Foreign Secretary Dominic Raab in October 2019 following Turkey's invasion of Afrin alongside its jihadist allies. While at the time it paused arms sales pending a review, data shows that this was only a brief and temporary measure.
Mr Raab offered some criticism of Turkey but also reminded MPs that the British government recognises "some of the legitimate concerns that Turkey has – in relation to the 3.6 million refugees that it has taken from Syria. And its concerns around the threat to its security from the PKK at its southern border with Syria."
It was a similar line taken by Turkey's NATO allies as they turned their backs on the Kurdish people while hundreds of thousands fled their homes with jihadist groups carrying out extra-judicial executions and missiles targeting busloads of civilians.
During the invasion Turkey was accused of war crimes and the use of chemical weapons - specifically white phosphorus -  in a strike in Sere Kaniye, to silence from the international community. 
Turkey has also used drones in missile attacks on the Makhmour refugee camp. And it is believed that an unmanned aerial vehicle was responsible for the bloodbath in Kuna Masi, which targeted children paddling in water at a popular tourist resort in Slemani, Iraqi Kurdistan.
All of these incidents would appear to have been facilitated by the Hornet bomb rack and be in breach of Britain's export licence criteria. It is unclear at this stage how the assessment reached its conclusion.
The government failed to respond to questions about the value of the contract or any other details about the licensing of the bomb rack. EDO MBM was also contacted for comment but did not respond to the request.
What is the Hornet bomb-rack?
The Hornet bomb rack is described as the "intelligent hand" that ensures that the missiles fired from an armed drone reach its target coordinates allowing for precision bombing.
It was first patented in 2014 and is built by the Brighton-based company EDO MBM. The carriage system is designed to carry small, light bombs that don't weigh down the drone.
EDO MBM supplied the technology to Baykar enabling the company to achieve its aim of self-sufficiency, with the first missile launched from the Bayraktar TB2 drone in 2015.