Working at 75 to preserve tin making from disappearing
Muhammet Nezir, 75, has been a tin maker since his childhood. He said he would do this job until the end of his life so that tinnery would not disappear.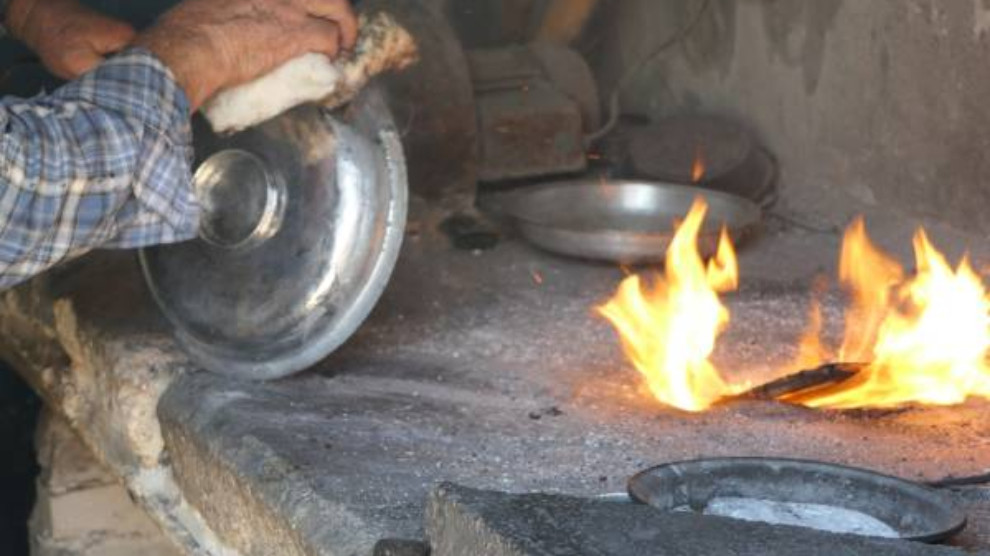 The tin profession, once practiced on the streets, is gradually disappearing with developing technology.
In the past, this profession in Kurdistan was mostly done by Christians. Muhammet Nezir, 75, lives in Mardin and has been a tin maker since he was 7 years old. Nezir recalled that 30 years ago they visited villages and practiced their profession.
"Our ancestors emigrated from Yemen to Mardin years ago. - he said - We learned Kurdish and Turkish in Mardin. I see myself as Kurdish. As a child I could not study due to financial problems. I had to work in order to support my family economically. Unfortunately, the legacy of the profession is at risk as we cannot find anyone to work in this job."
Nezir said that the profession of tin making is an art but is faced with extinction. Now they are replaced by objects in steel or aluminium In the past there were at least 50 tools made of tin in every house, but now some houses do not use them. They only use certain tin objects in some wedding. "But I never regret to having chosen this profession, because thanks to this profession, I was able to raise my children."
Nezir said that tin is no longer preferred after the boom of plastic, aluminum and teflon and added that food made in aluminum is harmful to health.
Nezir's son, Serkan Nezir, is spending his spare time in his father's shop both in order to prevent the profession from disappearing as well as to help his father.
Serkan Nezir said that he works in the shop with his brother and added: "My father is 75 years old and still doing this profession. When I was a child, my father was wandering from village to village, making tin pots and pans. Tinning is a art and labo which requires both patience and expertise."