Trip to Amara
In 1974, Abdullah Öcalan and Cemil Bayik visited his family in Amara. His father said to them: "First you were leftists and communists, now you have become Kurds. The Kurdish question is a big problem. How will you get out of it?"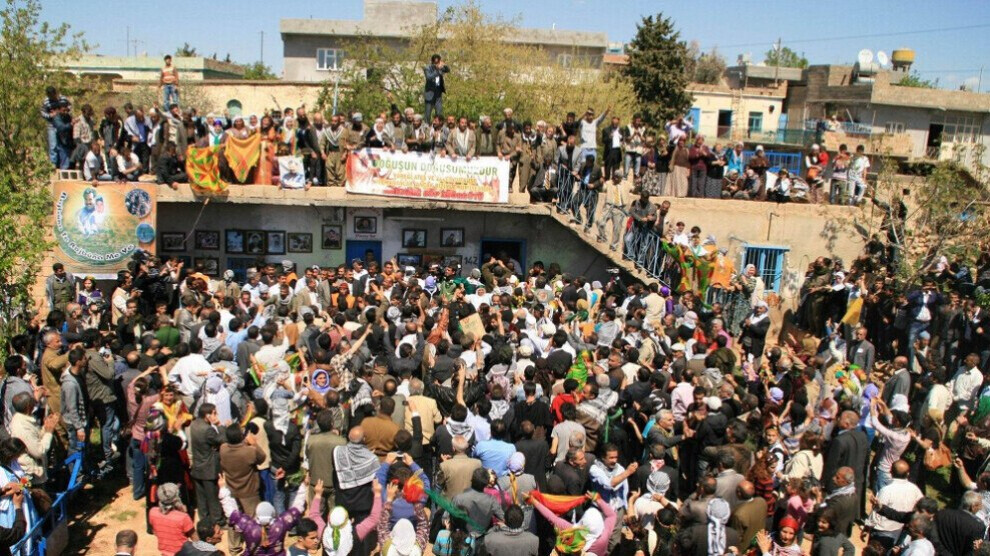 Abdullah Öcalan turns 72 on Sunday. For many years, people have flocked to his birthplace in the village of Amara in the province of Urfa on April 4. To experience the atmosphere in the village, I take a bus to Urfa. On the bus are twelve people who had traveled to the city from the villages in the surrounding area for their monthly shopping. Until we reach Amara, we drive through seven villages. It is spring and Öcalan's birthday is also the topic of conversation on the bus.
A mother explains to her thirteen-year-old daughter, "Starting April 2, the access road to Amara will be closed by the state so that people can't get into the village." The daughter asks why. "No one is supposed to attend the birthday," the mother replies. The ride ends in the Armenian village of Ereh. The driver understands that I am a stranger here. "Do you want to go to Amara?" he asks. When I say yes, he offers to drive me there.
This is my second time as a guest at Abdullah Öcalan's birthplace. As I step out of the vehicle, excitement grips me that I am walking the paths of his childhood. I am greeted at the door by his younger brother Mehmet Öcalan. He asks me if I am hungry. I answer in the negative and he says, "This is Serok's (Leader's) house. No guest is allowed to leave without eating and drinking."
After a while, I ask him about his memories from the two brothers' childhood and youth. He begins to tell me: "We were born in Amara. Because there was no school here, Serok went to school in the village of Cibînê. At that time, the villages were poor. Serok took a loaf of bread with egg every morning. His school grades were very good. In the summer he woke us up early in the morning and went with us to the garden. He had pigeons, which he loved very much. From time to time our friends Hasan, Tayyar and Aziz from the village came with us."
After elementary school, Abdullah Öcalan went to school in Nizip for three years and graduated from high school in Ankara, says his brother Mehmet Öcalan: "I was in the military at the time. I did my military service in Ankara. Serok had been accepted at the Faculty of Political Science in Ankara, but I knew nothing about that. When he visited me once, he said that he might be arrested soon. I asked why and he said: 'Mahir Çayan and his friends have been killed. We boycotted the university for three days because of this.'
Later he sent me a letter saying that he had been arrested and was in Mamak prison. I wanted to visit him and went to Mamak. I was in uniform and had to wait for hours at the gate. At some point, military officers came and said that as a soldier I am forbidden to visit political prisoners. I replied that I didn't know that and just wanted to see my brother. They did not accept it and took me away in handcuffs. I was taken to court and sentenced to ten days of disciplinary punishment. I was sent to a kind of prison. Serok sent me another letter asking why I did not visit him. When I explained, he replied that relatives always have the right to visit. He stayed in prison for six or seven months."
Mehmet Öcalan goes on to say that he himself did not go to school because his father was already old and he had to help him work in the fields: "One day in the fall, Serok and Cemil Bayik came home. If I'm not mistaken, it was 1974. My mother was a tough woman, but hospitality was very important to her. She made food. My father said to Serok and Cemil Bayik: First you were leftists and communists, now you have become Kurds. The Kurdish question is a big problem. How will you get out of it?' The two said nothing to that."
Feb. 15, 1999: A dark day
Of the day Abdullah Öcalan was taken to Turkey 22 years ago in an international intelligence plot, his brother recounts:
"February 15 was a dark day. Serok's arrest was a message to all Kurds. We knew, of course, that he had left Syria. At that time, we had been expelled to Adana. We learned about the plot from the media. I was listening to BBC all the time. Before the state made a statement about it, BBC had reported the arrest. The people of Kurdistan suddenly found themselves in the middle of the fire. All over the world, people took to the streets. The Kurds and their friends protested against his extradition to Turkey. Numerous people set themselves on fire in protest. The Kurdish people had recognized Serok Apo as their leader and were fighting for him."
Abdullah Öcalan's legal team wanted to obtain a visit permit and Mehmet went to Istanbul with his sister Havva: "We got on the bus in Adana in the evening and arrived in Istanbul the next day. People were on their feet all over the world. In Istanbul, it was burning 24 hours a day. There were big actions everywhere. If I remember correctly, Osman Baydemir picked us up from the bus station. We took a cab to the IHD (Human Rights Association). The media reported that Serok had been taken to Imrali. We gave a mandate to the lawyers and stayed in Istanbul for a few days. Every day we applied for a visit permit, which was refused each time. We then returned to Adana and continued to follow the media."
Two weeks later came the relieving news from Öcalan's lawyers: Mehmet and Havva were to go to Imrali. They went to Istanbul again: "There we were immediately surrounded by the secret service. We noticed because it was quite open. Together with the lawyers, we stayed overnight with a family from Serhad. The police surrounded the house. Hatice Korkut and Mahmut Şakar from the lawyers were with us. Four of us left the house and got into a car. We were followed by the police. We drove to Gemlik via Yalova, got on the ferry and crossed over to Imrali Island. It was a small boat that swayed a lot in the waves. We thought it was going to capsize. On the island, we were searched. I had told myself beforehand that we must not get emotional and cry. After about half an hour, he came. We greeted each other and he said to me: 'We haven't seen each other for twenty years and you haven't changed at all.' He looked very exhausted. After all, he had been through bad things and the circumstances were very difficult. After twenty or thirty minutes the visiting time was over. After us, it was the lawyers' turn. Then we returned to Gemlik by boat. All the way to Yalova, it was swarming with people. This first visit was very exhausting."
During subsequent visits, Abdullah Öcalan always said that he wanted to do everything possible to reach a solution, his brother tells: "However, he was always under an embargo. Until 2015, many visits were banned, but since then it was completely off. It was a pretty bad time. Serok was only interested in one thing from the beginning, and that was the Kurdish issue. He said that he wanted to solve the problem in a democratic way. He often spoke of the importance of Shengal, and he also often commented on Rojava."
After the great hunger strike, a few visits to Imrali could take place again in 2019, Mehmet Öcalan recalls and continues, "After that, isolation started again. The last time I was there was after the fire on Imrali on March 2, 2020. The visit was very difficult. The searches last time were so bad that they were unacceptable. When Serok came, he said that we should not shake hands because I had been diagnosed with fever. Even then he pointed out the viral danger."